The Kardashians Sign With E! for 5 More Years and Aren't Leaving Your TV Anytime Soon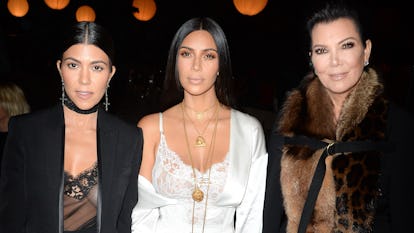 Stephane Cardinale/Corbis/Getty Images
When historians look back on this period, they will not say we are at the end of the Kardashian era, but that we're actually just at the beginning. America's favorite reality family might have just celebrated their tenth year on the air with Keeping Up with the Kardashians, but now they're guaranteed to get to their 15th as well.
Kris Jenner and her many children have signed a five-year contract with the E! Network, according to TMZ. The Kardashians will be paid $30 million a season, with the money distributed among the family members however they see fit. (That's going to be one seriously heavy family meeting.) The $30 million dollars is also a raise for Kris and company — an entire 10 million more than they were paid for the last five seasons.
While the future of the Kardashian television empire has been secured, the future of the actual family, or at least how it's growing, is still up for debate. Kim Kardashian West has confirmed she and husband Kanye West are expecting their third child via surrogate, but Khloé Kardashian's alleged pregnancy is still just a rumor, one most recently bolstered by an Instagram photo of the three eldest Kardashian sisters that featured Khloé slightly hidden by Kim and Kourtney (hiding a baby bump, according to online speculation).
Meanwhile, whether or not Kylie Jenner will be adding to the clan is unclear as well. The evidence is mounting (again, according to certified Instagram detectives) that Jenner is an expectant mom; sure signs include Jenner wearing a baggy shirt, wearing a coat, and skipping the legendary KarJenner family Christmas photo.
Whether there are three Kardashian babies on the way, or only one, viewers at home will be able to watch the family grow in size and influence for many years to come.
Related: Kim Kardashian Is Not a Fan of Khloe Kardashian's Style, So She Gave Her a Makeover
Watch Kendall Jenner Dramatically Read Nicki Minaj's "Super Bass":