Karl Ove Knausgaard Has "Basically No Idea" What Social Media Is About
The prolific Norwegian writer talks why he's transitioned away from writing thousands of pages to keeping things short and making time to binge on shows like Twin Peaks.
---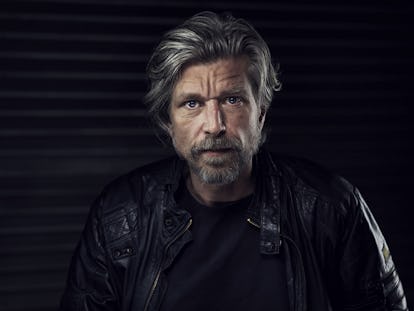 Sam Barker
Karl Ove Knausgaard, whose name is name is practically synonymous with writing at great length, has been surprisingly silent since 2011, the year when the prolific Norwegian writer finished publishing—or purging, as he now seems to think of it—the 3,500-plus pages that make up his six autobiographical novels known as My Struggle. That doesn't mean, though, that Knausgaard hasn't doggedly kept at writing in Scandinavia over the last few years—he's simply changed tact, working on a multi-part autobiographical series that could hardly be more different from his previous one.
The "four Seasons" series is still undeniably intimate; each short volume is addressed to Knausgaard's daughter, comprised of letters to her and two- to five-page explanations of and ruminations on everything from theories about aquatic apes to things as everyday as Q-tips and chairs—"the less significant the topic," Knausgaard said, "the more interesting and fun to write"—which he didn't even plan to publish. Seeing as Penguin Press just released its second volume, Winter, which also documents his now four-year-old daughter's birth, Knausgaard has now obviously changed his mind; he explains why, along with catching us up to what else he's been up, from binging on Twin Peaks to staying clear of social media, in his culture diet, here.
The "four seasons" series started out as private. Why did you decide to make it public? The series had two different starting points. One was a 150-page long letter that I wrote to my then unborn daughter, about what awaited her, who her family was, what we were doing while waiting for her and so on, that was meant for her and that I planned to give to her when she turned 18. The other starting point was a number of short texts I wrote for an American magazine every other week throughout the year, an assignment that was terminated when the editor resigned, but I kept writing these short texts, which were about objects and phenomena in the world, because I loved the form. When I first thought of combining the two, the writing turned into a project: four books throughout a year, one text every day, framed by excerpts from the letters to my unborn daughter. It became a book about the world seen anew.
You've said that you can't stand My Struggle, that you would even burn it if you could. Do you worry that your daughter will grow up and resent reading about, or knowing that others have read about, herself? Writing about the children was a decision I had to take on their behalf, but only they can decide if that was wrong or right. I don't know that yet—they are still young. Reading about themselves as small children is probably not something they will resent, because very little is specific for them, but that our family's story has become public through these books is a different matter. But I'm not worried—it is a part of their life and also something that is given to them, with love.
Do you miss writing at great length, like you did with My Struggle? Why did you change your mind about, as you've said before, needing 300 or 400 pages to say something significant? I do miss the long, continuous stretch of writing, the slow way of thinking that brings, but after My Struggle, I needed to do something completely different, and the short form gave a whole different set of possibilities that I really loved to explore. Form is a number of restrictions, and it is interesting how the form decides what it is possible to say, and what it is not possible to. A form contains a certain view on the world, but you can't know what that is before you have tried. I could have continued to write like I did in My Struggle, but then I would have known too well what I was doing. There wouldn't have been any surprises there for me, and that is one of the ways that writing dies.
Getting into the culture questions, what's the first thing you read in the morning? News sites on my phone, always the same: four Norwegian, one Swedish, one British, and one American newspaper. It is a compulsory act, and one of my New Year's resolutions was to stop doing it. I haven´'t succeeded yet. But I will!
What books are on your bedside table right now? Emmanuel Carrere's The Kingdom; Venedikt Yerofeev's Moscow Station; Inger Christensen's Part of the Labyrinth; Peter Godfrey Smith's Other Minds: The Octopus, the Sea and the Deep Origins of the Consciousness; and Francis Fukuyama's Our Posthuman Future: Consequences of the Biotechnology Revolution.
What TV shows have been keeping you up at night? At the moment, I'm watching Twin Peaks with my daughters, and even if I restrict it to one episode every evening, they somehow manage to talk me into watching one more—only one more, please, please—so that we are more tired in the morning than we ought to be. Normally, I don't watch TV at all; I have an addictive nature, so I know that if I start to watch something, say Breaking Bad, I won't be able to control it. And since I need all the time I can get to write, I simply don't watch anything.
What's the last movie you saw in theaters? Ferdinand, with the kids. I loved the German horses!
What's the last thing you saw at the theater? Oedipus and Antigone at Dramaten in Stockholm. I rarely see plays—I have seen maybe six or seven in my life—but this play was translated by a friend of mine, so I went and saw it. The translation was wonderful, ancient and contemporary at the same time, and it is hard not to be fascinated by the depth of these plays, and not to be struck by how little human nature has changed throughout these last two and a half thousand years.
What's the last piece of art you bought? I just got two absolutely amazing prints by the photographer Stephen Gill. Both are photos from a forest, taken from his book Night Procession. It depicts forest and animals in ways you have never seen before.
What's the last museum exhibition that you loved? That must be the André Derain exhibition at the Pompidou in Paris this winter. Some of the paintings were absolutely masterpieces. He had a sense of color like no other painter I have seen.
What upcoming release are you most eagerly anticipating? Jon Fosse has written seven novels which are about to be published. I´'m very excited by that. Lars von Trier's new film, too.
What's the last song you had on repeat? I have played the new War on Drugs last album since it was released pretty much nonstop.
What's the last concert you went to? I saw Iron & Wine in New York a few months ago. [Sam Beam] is one of the best songwriters around, and it was great fun to see him live. I'm an even bigger fan now.
What's the last thing you Googled? "Winter 1979 Arendal cars on the ice."
What are your favorite social media accounts to follow—and if you don't look at social media, why not? I'm not on any social media. I have basically no idea what it is about. What is it about?
What's the last thing you do before you go to bed? Tonight, it was replying to these questions.
Related: Leïla Slimani, Award-Winning Author of the So-Called "French Gone Girl," Keeps Virginia Woolf's Diary and an Elena Ferrante Novel on Her Bedside Table