Karolina Kurkova, Supermodel and Part-Time Health Guru, Shares Her Winter Skincare Survival Tips
From DIY masks to facial acupuncture.
---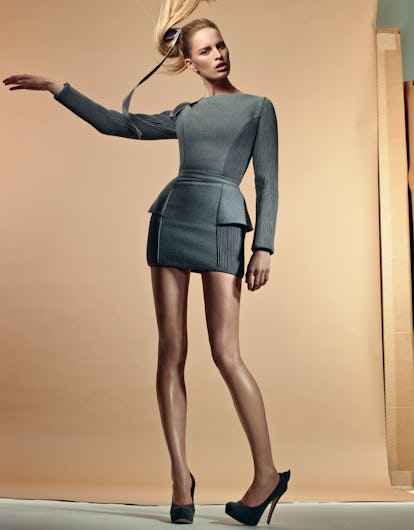 Craig McDean
Chances are, if you haven't yet modified your beauty routine to adapt to colder weather, you probably will. The beauty industry is hoping so, anyway, rolling out new products every nanosecond, specifically designed for the colder climate. These new formulas will be perfect for some of you, if not all of you. And for every beauty product addict, a euphoric set of nights will mean slathering, dabbing and smoothing on new products with the anticipation of life changing results in the morning. But ask yourself, as the holidays phase out, who really has time this January? Caviar extract may be an abundant skin luxury, but time is not.
So, why not ask a bonafide supermodel what really works? Much like asking a sommelier which wine to pair with dinner, we turned to veteran supermodel, Karolina Kurkova, to share with us which products and treatments will be your best bets this season.
Blessed genetics asides, it's important to remember that a model's vocation not only requires them to look their best, but to maintain their appearance long term. This means finding the most effective beauty products. Wearing many hats (mother, wife, philanthropist, business entrepreneur) the veteran model, who has graced the most celebrated covers, runways and ad campaigns, has held a steady career for over two decades. Here below, she gives us insight on the products, techniques and beauty routines that prove most effective for her.
Your prolific career in modeling has spanned two decades, but more recently, you've added a wellness line to your plate, too. Was there something that prompted that shift?
I've spoken about it briefly over the years, but I've never gotten into real detail about this. In my early twenties, I was working very hard and my agent kept telling me that I need some time off. I never took time off, I always worked non-stop, but decided to listen and actually take a break. During that time off, I also went to see a nutritionist who ran some tests on me. Once the results came in, she told me more or less that I was a mess. I had a crazy high antibody count, and she said that not only was I pre-diabetic, but my thyroid was not functioning properly. I didn't even think about it before, but I was 30 pounds heavier and I was really not feeling well. I might add that during that time people were not nice—the press said very unkind things about me. So aside from the physical unpleasantness, it was not a fun time for me emotionally. I had to take charge and make a change. I did a 180 in terms of my health. In addressing my health issues, I changed the way I take care of my body forever. It was also a blessing in disguise because it was somewhat frightening, but it became an important lesson for me to plow through things, get things taken care of and take care of my health and my body. I learned how to slow down and focus.
Extreme temperature affects many people's skin during the winter. What's working for you this season in terms of skincare?
You know, winter is tougher because you need to protect your skin from all of the competing elements indoors and out. So routine-wise, first I like to cleanse in the morning with something light like Cosmedix Purity Cleanser. At night, I use a milkier cleanser—I think it's more hydrating on your skin and just overall better for the texture and complexion. I use Biologique Recherche Lait E.V., which is a cleansing milk that leaves my skin very soft and clean. When I'm not working, I try to not to wear any makeup. I think it's important to let skin breathe.
Another thing that really saves my skin during colder weather is Seal the Deal Healing Balm. It's from Gryph and Ivy Rose, the preventative wellness line for adults and kids that I developed with my partners. We created it originally to treat people with eczema and severely dry, chaffed skin. There's a blend of herbs like licorice, turmeric, shrubby sophora and chamomile. All of those ingredients are steeped in sesame seed oil for 30 days and then whipped into beeswax, so it's not only clean but very healing. It seems to calm my skin more than anything else. About once or twice a week at night, I cleanse my skin and then I apply the balm with a bit of the Knight in Armor oil from our line too. Then I take a skin device I use religiously called My Skin Buddy to go over it. There are four lights on the device which do different things. I use the first red light to seal in the properties and stimulate collagen. I do it for about 20 minutes. It doesn't seem long, it's kind of a relaxing treat for myself and then I wipe off the excess balm when finished with a warm wet towel. That really keeps my skin hydrated and calm. I also use the balm on my lips, hands and cuticles at night too, especially in the colder weather.
Who are your go-to facialists?
Melanie Grant in Australia, Mary Shook in New York, and Ivan Pol in L.A. I am a fan of his beauty sandwich.
Are there any treatments you do regularly?
I'm a big proponent of facial acupuncture. We are all constantly on our cell phones, we all get stiff, we hold things in our face sometimes, too. Facial acupuncture opens up the chakra channels and I find really makes a difference on my skin. There's more even blood flow and more circulation. That said, for your skin to look beautiful the condition of your neck and its alignment is also very important. Pinched nerves and tightness can affect how your complexion looks. Think about it: When you aren't feeling your best, it shows up on your skin. Even from a workout, your alignment can be off. For me, if my neck and alignment are even, my complexion is far better. There's more oxygen flowing and less tension causing restriction around my face and neck.
Do you take any supplements?
I take Host Defense Mushrooms Lion's Mane for Memory and Nerve Support and every day. I also take the Gryph and Ivy Rose Adult Chocolate Probiotics for my immune system. I think probiotics are essential.
Are you a mask person?
I love masks. I am into good quality sheet masks. Better to spend more and get better quality vs. quantity. I regularly use Dr. Colbert's Illumino sheet mask when on the go and traveling. That said, if you want to be smart and save some money, go to your cabinet and fridge. Yogurt is very good for your skin; great probiotics keep it balanced. I use a full fat organic yogurt with the best enzymes and leave it on your skin. Another DIY mask is honey. Put a good quality honey all over your face—it's a lifesaver in terms of winter skin moisturizer.
May we inquire about your vanity? You've mentioned before that growing up you were ridiculed because of your looks. Do you still harbor insecurities even though you've had a successful career where your looks still tilt to your advantage? Do you ever get insecure?
Well, growing up I was made fun of because I was very tall and long. It may seem like a great attribute now, but as a teenager, at a time when you're already going through so many changes emotionally and physically, all you want to do is fit in, and I didn't. It was hard. I will say that the modeling industry was a gift for me because it helped me celebrate my differences and it taught me that it's okay to be different. I learned how to work hard and make a career out of what I had. There will always be a part of me that at certain moments that has those insecurities, but my career helped me feel good about what was different and how to grow from that. It made me more resilient.
You have a reputation for being very disciplined. You've spanned two decades in an industry where it's easy to get led astray with the celebratory aspects of your profession. You weren't a partier. What was the driving force in your life that kept you out of trouble in your early modeling days?
Without a doubt, being an athlete and having the discipline to perform kept me focused. From the age of six to about 13, I was a competitive gymnast. I did gymnastics every day before and after school. It was extremely hard on my body—I was run down a lot and getting sick just from over-doing it but still, I kept doing it. I was very focused and very disciplined. I pushed through. It's just a part of who I am to be like that. I never really partied when working. I was always into body work, yoga and meditation. I occasionally drank when I was in my early twenties, but to be honest, if I had to work the next day, I needed to get proper sleep. If you're getting off a 13-hour plane ride from China and you then (more or less) head straight into a photo shoot, you have to be ready. You have to be on. When I show up, I show up. I keep that energy focused for my work. You need sleep and rest to look good, feel good and be "on" for your job.
How do you stay centered in a career that is based on looks and appearances? How do you keep your core always normal and grateful?
At this moment, I stay centered because of my family. Kids especially will keep you centered. They don't care about any glamorous aspects of modeling, what you're wearing or what you look like. They just want you. Last night, I flew in at 3 a.m. from work and had to be up at 6 a.m. with the kids. Their needs come before yours. There's no down time with being a parent. But before kids, I'd say what kept me centered was my strong work ethic that was instilled in me from my childhood. That was my motivating factor early on.
Related: Your Best Hair Ever, Courtesy of Fashion Legend Garren