Kate Hudson Shares the Very First Photo of Her Newborn Daughter
Hudson gave birth to Rani Rose Hudson Fujikawa earlier this week.
---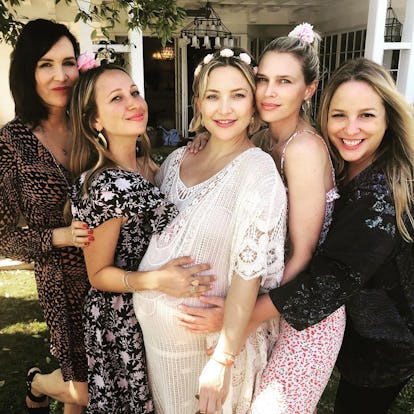 @katehudson
On Tuesday, Kate Hudson gave birth to her third child—her first daughter—whom she named Rani Rose, after boyfriend Danny Fujikawa's late father, Ron Fujikawa. (It's pronounced "Ronnie.") She posted a simple slideshow on Instagram, illustrated with the date (10-2-18) and a brief explanation of the name in bold black type against a soft pink watercolor background. She captioned the post, "She's here."
Now she's really here: Hudson has at last shared the first photo of her infant daughter. In a post on Friday, captioned "Our little rosebud," flanked by two rose emojis, Hudson presented Rani Rose Hudson Fujikawa to the world—or, at least, to her social followers. In the photo, the sleeping baby is swaddled in a red- and blue-striped blanket, a pink bow crowning her head.
Hudson first announced the pregnancy on her Instagram back in April: "We have been trying to keep this pregnancy under the radar for as long as possible but I'm a poppin now!" she wrote, explaining her social media hiatus during the early months of her pregnancy. The caption accompanied a short, ecstatic clip in which Hudson and Fujikawa poked knives in black balloons covered in question marks; as they burst, they let forth a stream of smaller pink balloons and pink confetti.
She and Fujikawa have been dating for just more than a year, but they've been family friends—he's a close friend's stepbrother—for more than a decade. Rani Rose, their first child together, is Hudson's third; she's also mother to Bingham and Ryder, 6 and 14, respectively, from Hudson's previous relationships with Matt Bellamy, whom she dated from 2010 to 2014, when they called off their engagement, and Chris Robinson, to whom she was married from 2000 to 2007.