Kate Hudson's Shaved Head Makes Its Red Carpet Debut in New York
She paired it with a slinky dress.
---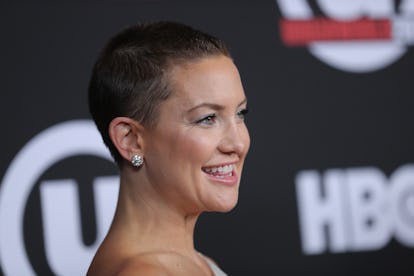 J. Countess/WireImage
Kate Hudson might be one of Hollywood's most recognizable blondes—at least, that was the case until this summer, specifically late July, when the actress shaved off all of her hair. Since then, sightings of Hudson's buzz cut have been sporadic but, this weekend, the Oscar nominated actress and budding athleisure mogul gave the world an up close look at her newly brunette hairdo when she hit the red carpet for the 21st annual Urbanworld Film Festival in New York City. Hudson paired her brunette buzz cut with a slinky Stella McCartney gown, diamond earrings, and matching silver eye shadow, all of which added to her natural glow.
Hudson was at the film festival to take in the premiere of Marshall, which traces Thurgood Marshall's journey to the United States Supreme Court, where he made history as the first African-American justice — a timely film given the current political climate.
Hudson isn't the first celebrity to opt for a dramatic overhaul courtesy of a buzz cut. This year alone, everyone from Katy Perry and Cara Delevigne to Kristen Stewart and Zoë Kravitz have chopped off their long locks into similar hairstyles. In fact, the buzz cut has emerged as one of the biggest celebrity beauty trends of the year. Hudson, however it seems, underwent a buzz cut for work.
Sia apparently ushered in the change as Hudson reportedly got a buzzcut for the artist's next project, a film called Sister, which her stepfather Kurt Russell revealed in an interview with Harry Connick Jr.. "I don't know if, cat out of the bag, if the deal's not made or anything, but I think that she's gonna do this musical that Sia is going to direct," Russell said. "That sounds fantastic, so I hope that happens."
It seems like it is happening as Hudson has been teasing behind-the-scenes pictures on her Instagram. In a post from July 26, Hudson shared a picture of herself sitting in a chair with her then-new buzzcut, along with the caption "Freedom ?? Compliments of @siathisisacting ❤️ #OurBeautifulDirector."
Shortly before that, Hudson shared another photo from working on her upcoming project, this time featuring Sia's protégé Maddie Ziegler, who starred in the songwriter's videos for "Chandelier" and "Elastic Heart." Few details are known about the mysterious project but hopefully it won't be long until it's officially announced.
Kate Hudson's Adventurous Hairstyles, From Beachy Waves To A Blonde Buzz Cut
A young Kate Hudson poses at the Eighth Annual MTV Movie Awards in 1999, wearing a natural face with tousled curls.

Getty.
Wearing a mauve lip with her shoulder length locks and tousled bangs, Hudson attends the Hollywood Women's Press Club's 60th Annual Golden Apple Awards in 2000.

Getty.
Wearing her natural curls in a tousled up do with a burgundy red lip, Hudson attends the 14th Annual American Comedy Awards in 2000.

Getty.
Radiating at the 2002 Golden Globe Awards, Hudson wears her golden blonde locks in voluminous curls with a hint of blush on the cheeks.

Getty.
Hudson is all smiles at the Raising Helen film premiere in 2004, pairing her wild curls with a mauve lip.

Getty.
Hudson keeps her look minimal and chic with a simple high ponytail and luminous skin at the Sydney premiere of You, Me and Dupree in 2006.

Getty.
At the Orange British Academy Film Awards in 2008, Hudson opts for a simple braided do with side swept bangs.

Getty.
At the Glamour Magazine 2010 Women of the Year Gala, Hudson channels old Hollywood with her sleek S-wave curls with a satin red lip.

Getty.
Wearing an elegant up do with a frosted smoky eye, Hudson arrives at the 67th Annual Golden Globe Awards in 2010.

Getty.
At the amfAR 3rd Annual Inspiration Gala in 2012, Hudson opts for a slicked back, low tousled pony with a golden smokey eye.

Getty.
Wearing her perfectly blown out curls with a stain nude lip, Hudson attends the 70th Annual Golden Globe Awards in 2013.

Getty.
Looking regal at 86th Annual Academy Awards in 2014, Hudson wears her elegant waves with a subtle smokey eye.

Getty.
Hudson keeps her look simple at the 72nd Annual Golden Globe Awards in 2015, wearing a low, middle-parted bun with a natural lip.

Getty.
Debuting her newly chopped bob, Hudson wears her loose waves with a pale pink lip at the 2016 Vanity Fair Oscar Party.

Getty.
Opting for a dramatic up do the a 2017 Costume Institute Gala, Hudson pairs her frosted white locks with a taupe smokey eye.

Kevin Mazur