Kate Middleton Played Tennis in Heels and Looked Like She Was Having a Blast
Even her game face is cute.
---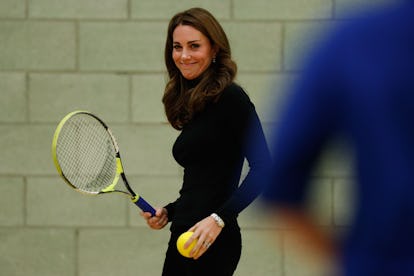 ADRIAN DENNIS/AFP/Getty Images
Kate Middleton has a new skill to add to her ever-growing résumé: playing tennis in heels. The Duchess of Cambridge put this talent on display during a recent outing with Prince William and, frankly, we're impressed.
The royal pair were at the Coach Core Essex apprenticeship at Basildon Sporting Village to meet with the students and graduates and talk about sports when Middleton unexpectedly stepped onto the court. She ended up jumping into a tennis session without as much as changing her clothes. With her heels, Middleton wore a black turtleneck and black pants that, when combined, gave the effect of Serena Williams's iconic catsuit. Despite the challenging footwear, Middleton seemed to be having a blast while playing tennis in heels. Even her game face looked good.
Of course, Middleton has had plenty of experience around tennis courts. This past summer she and her new sister-in-law, Meghan Markle, took in a game during the Wimbledon's women's final, where they watched Markle's friend Serena Williams play. Last October, Middleton participated in tennis drills—while dressed for the occasion in athletic wear and sneakers—at a visit to the Lawn Tennis Association. While there, she asked coach Sam Richardson for tips to help teach Prince George some skills for the court. "She says with George just being four he wants to whack a ball, so she was asking what sort of stuff should she be doing," Richardson told Hello magazine of their encounter. "They will struggle at that age to hit a ball. She said he's interested in it, but more in whacking the ball."
At the time she was pregnant with her third child, Prince Louis. While Louis is too young at the moment to play, Prince George and Princess Charlotte have already been encouraged to take up the sport. Middleton confirmed as much at Wimbledon this year when tennis player Novak Djokovic asked her and Prince William how their children are doing. "Very well, thanks, very well," Middleton replied, which you can see in the below clip. "Trying to get a tennis racket in their hand. And a football." It won't be long until Prince George and Princess Charlotte can join Middleton and Prince William out on the court for a doubles match.