Kate Middleton Borrows a Tiara and a Look From Queen Elizabeth II
She borrowed a tiara and a look from the Queen.
---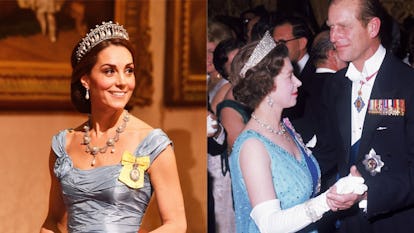 John Stillwell – WPA Pool/Getty Images/Fox Photos/Hulton Archive/Getty Images
Kate Middleton's husband Prince William is second in line to the throne — after Prince Charles, Queen Elizabeth II's first choice for her successor — but she is already looking like a queen. When the mom of three attended a State Banquet at Buckingham Palace today she borrowed a look and a tiara straight from her grandmother-in-law.
Middleton showed up to the event, which honored the Queen and King of the Netherlands — the first time of such an occasion since 1982 — in a blue Alexander McQueen gown, and a diamond headpiece lent to her by Queen Elizabeth. What's more is Middleton also wore a Royal Family Order yellow pin, given to her by the Queen to wear for the most special occasions. With that combination, she almost appeared to be morphing into the Queen, who has worn many blue gowns that are comparable. The closest the pair have come to twinning in blue gowns and tiaras, specifically, is when the Queen visited Malta in 1967. For the occasion, she wore a yellow pin — aka the Royal Family Order — and a similarly sparkly diamond tiara with a sleeveless blue gown and white opera gloves.
Middleton's tiara and look — an homage to the Queen — is further confirmation that she and her grandmother-in-law share a close relationship. Middleton has opened up about the status of their relationship a couple of times before, notably in her and Prince William's engagement interview — a now-royal tradition as Meghan Markle and Prince Harry underlined last fall. "I first met [the queen] at Peter Phillips and Autumn [Philipps]'s wedding," she said at the time, adding, "it was in amongst a lot of other guests and she was very friendly," to which Prince William added of his grandmother, "She had wanted to meet Kate for a while."
The pair have just grown closer over the years as Middleton revealed in the documentary Our Queen at Ninety. "The most memorable engagement for me was an away-day to Leicester. I went without William, so I was rather apprehensive about that," she said, "She was very supportive. The fact she took the time to make sure that I was happy and looked after for that particular occasion, which probably in everything that she's doing is a very small element, it shows just how caring she is really." The tiara she lent Middleton is, apparently, one more example of that.