Kate Spade Turned a Construction Paper Purse Into a Billion-Dollar Fashion Empire
Remembering the late accessories designer, who was found dead on Tuesday at 55.
---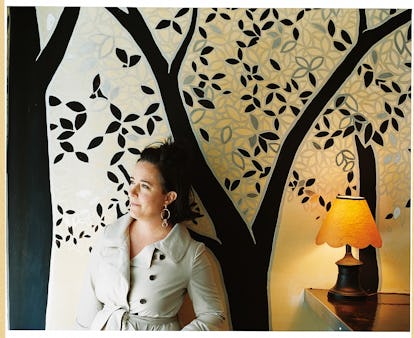 Ogden Eric
Kate Spade built a billion-dollar accessories business out of construction paper. Literally. The Missouri-born fashionista had spent years working as an editor at Mademoiselle, working her way up to head of accessories, but despite seeing thousands of handbags a year she sensed there was just something missing both in the market and her own wardrobe. So, naturally, she decided to try her own hand at designing, even if she hadn't had training. The legend goes that in 1993 she made her first prototypes out of simple Scotch tape and construction paper (other accounts claim it was burlap). She liked what she saw, but as the process went on, she decided the bags needed just one more detail. So she decided to take her first name and the last name of her then-boyfriend, Andy Spade (luckily, the two would go on to marry), and fashioned a small label to affix to the outside of the six original prototype silhouettes she had constructed. Buyers were impressed. American women looking for a stylish, quality handbag that wouldn't break the bank went wild. Vogue blessed her with a shout-out early on, recognizing her talent. By 1996 she was the hottest purse designer in America; that was also the year she won the CFDA award for New Talent in Accessories Design. Two years later, she was named best accessories designer overall.
Tragically, Spade was found dead this morning in her Park Avenue apartment a day after the most recent CFDA ceremony. CNN reports that a suicide note was found.
Her death was all the more shocking because there was always something cheery and timeless about Spade, both the woman and the brand. Her personal style was a mix of vintage and new, high and low, with an emphasis on bright colors and bold prints long before it was all the rage, and that was reflected in her designs quite directly.
"Kate doesn't make belts because she never wears belts," husband Andy, a former ad man and brother of actor David Spade who became both a creative and business partner, once told CNN. "Then some of the buyers would say, well, everyone's wearing belts right now, and Kate would say, well, I'm not."
In the same interview, Kate called her own trademark design as "distorted classic."
"I mean, there are a lot of classics out there and I don't necessarily want another just basic one if I already own it," she said. "So in order to make it a little more interesting, I think you have to distort it a little and make it new."
Spade leveraged her into a global brand that would grow to include not just handbags, but shoes, cosmetics, fragrances, clothing, and, yes, eventually belts. All the while the brand maintained an ethos of accessibility for modern American women.
"We're not intimidating," Spade once told Vogue. "I think some people get nervous about fashion because they find it a little scary. But fashion should be enjoyed; it shouldn't be looked at from a jaded, been-there-done-that point of view."
Meanwhile, the Spades cut a charming presence on New York's social scene, with Vanity Fair once comparing them to Nick and Nora Charles, the delightful, beloved detective couple of classic cinema heralded for their wit. They were regulars at classic New York haunts like Elaine's and Mortimer's, and hosted intimate cocktails at their apartment, all while never losing too much of their charm to the ceaseless demands of New York City.
"Kate is the girl next door," former Estée Lauder chair Leonard Lauder told the magazine. "I've been acquainted with so many fashionistas over the years, and she is the antifashionista, and because of that I just love her."
In fact, Spade was so down-to-earth that she once told W her wedding dress had caught on fire, but she didn't mind too much. "Luckily the party had kicked into full swing by then, so nobody noticed the bunched-and-safety-pinned skirt," she said.
Spade also leveraged her personality as part of the literature world, publishing several books, including chic guides on manners, party hosting, and style.
"My husband, Andy, likes to say that style is innate," she wrote in the first chapter of Style. "He and I both feel that style is the sum of so many things—beginning with a sense of who you are and having self-confidence. It's about getting the most mileage out of what works best on you. I'm a firm believer in wearing what makes you happy. And the only rules I'd encourage anyone to follow are their own rules."
The Spades would sell a controlling interest in their business to Nordstrom's in 2002 (it later was acquired by Coach in a $2.4 billion deal), and Spade took time off to raise her daughter. More recently, she had launched a new line called Frances Valentine.
While there are still many questions left about Spade's death, it serves as another chilling reminder that mental illness can effect anyone, even one of the most pleasant women in fashion. If you or anyone you know has contemplated suicide, please call the National Suicide Prevention Lifeline at 1-800-273-8255.