How Kate Spade, the Brand, Honored the Life of Its Founder at New York Fashion Week
Naturally, it was sparkly.
---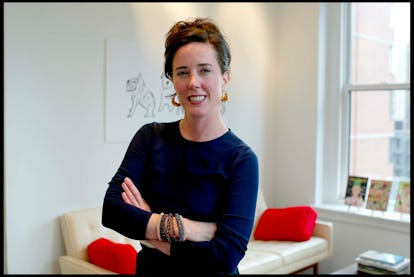 David Howells/Corbis via Getty Images
How does a brand forge ahead with fashion week in the wake of its founder's death? Kate Spade answered that question with thoughtfulness and love today. When the brand presented its spring 2019 collection at New York Fashion Week on Friday, September 7, it did so while honoring the legacy of Spade, who died by suicide in early June.
While Spade hadn't been at her namesake brand since 2006, when she sold it to Liz Claiborne—which later sold it to Coach's parent company, Tapestry, in 2017—the company has since been operating under her sparkly and colorful approach. This season was no different when design head Nicola Glass debuted her first line for Kate Spade. What was different was the card placed at each guest's seat. "She left a little sparkle everywhere she went," it read, a direct quote from Spade that is perhaps her most ubiquitous. The quote was presented in the past tense to reference Spade and also included the words, "In loving memory, 1962–2018."
The rest of the presentation was geared with the same honorary tone. "This collection has been given a lot of care, attention, and love," Glass wrote in the show's notes. The presentation was part of that as the brand eschewed its usual champagne-and-hors-d'oeuvres-centric approach and instead held a runway show at the New York Public Library, as Page Six reports. There were other, quieter tributes to Spade, like the front-row guests Priyanka Chopra, Elizabeth Olsen, and Kate Bosworth clutching updated renditions of her debut tote from 1993, named the "Sam" bag.
Kate Spade talked about the moment she got the idea to create her iconic line in one of her last interviews, telling NPR, "It's funny." "You know, Andy [Spade] and I were talking one night," she said, referencing her husband. "And I just said—I was looking ahead and I saw the fashion directors. That would be your next jump from being senior fashion editor. And I thought, I don't really see myself wanting that job. So Andy and I were out, honestly, at a Mexican restaurant. And he just said, what about handbags? And I said, honey, you just don't start a handbag company. And he said, why not? How hard can it be? [Laughs] I thought, Okay, really? He regrets those words."
If you or someone you know is going through a crisis, please call the National Suicide Prevention Lifeline at 1-800-273-TALK (8255) or contact the Crisis Text Line by texting TALK to 741-741.
Related: Kate Spade's Death Sparks Celebrity Reactions From Lucy Hale, Chelsea Clinton, Kenneth Cole and More