Kate Spade Left Behind 'Four Seasons Worth of Ideas' and an "Abundant Library of Concepts" for Her Brand Frances Valentine
And an "abundant library of concepts."
---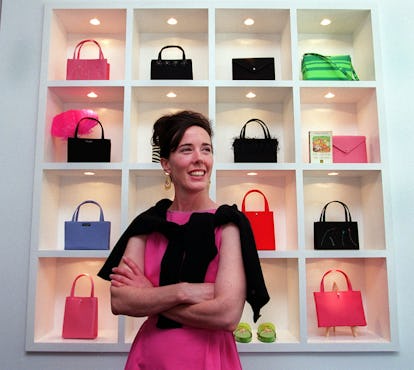 Wendy Maeda/The Boston Globe via Getty Images
Kate Spade left her mark on fashion, crystalizing a niche for "It bags" and leaving behind a legion of fans. Many of them have reached out to the late designer's Frances Valentine label, which Spade started in 2015, 9 years after she left her namesake company.
"We have been inundated with calls and emails about product, but also about people's emotional connection to Kate," Arons told Business Insider. "She was authentic, and I think people sensed that and really felt close to her." The many stories her friends and followers later shared about her, of course, also confirm that.
Accordingly, Spade's Frances Valentine brand is hoping to keep Spade's designs in production, potentially including an "abundant library of her concepts" and four seasons of ideas. "We don't know what the future holds for us, but we are determined to continue to make her beautiful work live on through Frances Valentine," said Arons, who was a part of Spade's original design team, as Business Insider notes. "We will be stronger for her, more connected to each other through her."
In one of her last interviews, Spade recalled the time before she started working with Arons, when she conceived of the idea to start her iconic handbag line. "It's funny," she told NPR's Guy Raz, as CNN noted after her death. "You know, Andy and I were talking one night. And I just said — I was looking ahead and I saw the fashion directors. That would be your next jump from being senior fashion editor. And I thought, I don't really see myself wanting that job. So Andy and I were out, honestly, at a Mexican restaurant.And he just said, what about handbags? And I said, honey, you just don't start a handbag company. And he said, why not? How hard can it be? [Laughter] I thought, OK, really? He regrets those words."
[#twitter: https://twitter.com/HowIBuiltThis/status/1004039945714110464]
As for the Kate Spade brand now, it's in the hands of Coach's parent company Tapestry, which purchased it for $2.4 billion in 2017. It was Liz Claiborne, though, which purchased it from Spade in 2006, running it up until the 2017 sale to Coach. As William McComb, the former chief executive of Liz Claiborne, told The Washington Post, "Kate Spade the brand now transcends Kate Spade the person, which is how you know this is a truly successful brand."