Katherine Schwarzenegger Reportedly Brought Her Dad, Arnold, on a Date With Chris Pratt
Arnold Schwarzenegger tagged along on the couple's latest outing.
---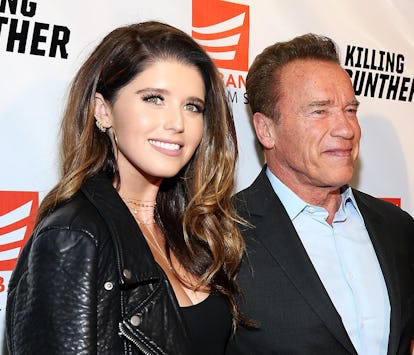 Phillip Faraone/Getty Images
What do you get when you cross the Terminator and a Guardian of the Galaxy? Not, sadly, a hilarious punch line, but rather the first documented meeting between Katherine Schwarzenegger's father and boyfriend (respectively). On Sunday, Arnold Schwarzenegger brought girlfriend Heather Milligan along as he joined his eldest child and Chris Pratt for an early-morning double date, Us Weekly reports. The group dined at the FIG restaurant at the Fairmont Miramar Hotel and Bungalows in Santa Monica, with all four dressed in casual athleisure for the gathering. Katherine and Pratt reportedly followed up the breakfast with a trip to church.
Though this was the first time Pratt has been seen with Schwarzenegger's father since he was first linked to her in June, he's spent quality time with the rest of her family already. Back in August, Schwarzenegger's younger brother Patrick shared a photo on Instagram of Pratt joining him and Schwarzenegger's mom Maria Shriver for dinner; and before that, Shriver was credited with playing matchmaker between her daughter and the actor. "Her mom set them up because they're both active in the church," a source told Us Weekly back in July. "Her family really likes him," the insider added. "They're really into each other."
Since their relationship first made headlines over the summer, Pratt, 39, and Schwarzenegger, 28, have been spotted on dates on a regular basis, often following or followed by church services. Only a few days before last weekend's double date with her dad, Schwarzenegger was seen running errands around Los Angeles with Pratt, and a week before that, she joined Pratt, his ex Anna Faris, and Faris's new beau Michael Barrett as they all took Pratt and Faris's son Jack trick-or-treating around their neighborhood.
Though the duo have so far abstained from this year's mind-boggling trend of whirlwind celebrity engagements, wedding bells may still be ringing in the not-too-far-off distance. "They haven't been together that long but everyone is rooting for an engagement to happen soon," a source recently told E! News. "Everything seems to click with them and works. They have the same values, lifestyle and priorities," the insider said, adding that Schwarzenegger has become especially close to 6-year-old Jack. "She has always been good with children, but she really shines and has stepped in to this role perfectly. She knows her place with him and is there to have fun and support him." They continued, "From the moment they met, it just seemed different for Katherine. This is definitely the most serious relationship she has had."
Related: A Pictorial Guide To The Well-Connected Kennedy Family Tree