Which Upcoming Celebrity Wedding Will Have the Wildest Guest List?
You are cordially invited to help us figure out which of these celebrity wedding guest lists will be the wildest.
---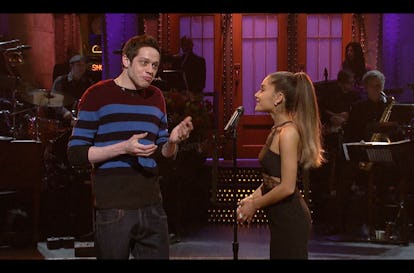 As logic would have it, first comes cuffing season, then engagement season, and wedding season follows suit.
In 2018, it's all happening so fast! This summer it has felt like a new couple has announced their engagement nearly every week, so naturally there are at least a handful of surprise weddings to get excited about in the coming months.
One second you're hearing a couple you never would have imagined together is rumored to be dating, and the next second they're on the fast track to marriage. That's just the way it goes now. Sure, stranger things have happened, but most of those couples became engaged after dating for an extremely short amount of time—after just a few weeks, as was the case with Ariana Grande and Pete Davidson, or a couple of months, as was the case with Nick Jonas and Priyanka Chopra, and there are so many big, potentially unanswerable questions that have been born from the announcements of each of these imminent weddings. Will Donald Trump be invited to the Kloss-Kushner nuptials? Will Taylor Swift be invited to the wedding of her ex-boyfriend and "Forever & Always" inspiration, Joe Jonas? Will Selena Gomez show up to any of them? Imagine being placed in charge of sending the invites to any of these weddings or having to be the one tasked with organizing the seating arrangements. Peace be upon that person because the possibility for drama to unfold at any of these celebrity weddings is high. Most of these weddings have yet to even set an official date, but in the meantime, you are cordially invited to suss out which celebrity wedding guest list will be the wildest one.
Nick Jonas & Priyanka Chopra
Nick Jonas introduced Priyanka Chopra to his own family at his cousin's wedding in June. This was barely a month after the two started dating, but perhaps he was bit by the love bug during the ceremony because here we are, two months after the couple's Met Gala 2018 red-carpet debut, preparing for a big bash that celebrates the love between a Jo Bro and one of Bollywood's most recognizable superstars. Chopra's family and the Jonas family (Kevin, Joe, and Frankie are contractually obligated to be groomsmen for their brother, right?) will most likely be in attendance, and hopefully Demi Lovato, a longtime friend and collaborator of Nick's, will be well enough to attend as well. But the most exciting potential guests for this wedding are none other than Prince Harry and Meghan Markle, the Duke and Duchess of Sussex. If Markle and Chopra are actually such good friends (and their friendship is believable; Chopra attended the royal wedding in May, after all), then she'd better put the Duchess on that guest list!
Joe Jonas & Sophie Turner
If you're a fan of Game of Thrones, then you'll probably be most excited to see the recently betrothed Kit Harington and Rose Leslie cheering on their costar Sophie Turner as she marries a Jonas Brother, alongside the rest of the Westeros gang. This could be an even bigger Thrones wedding than the one between Jon Snow and Ygritte, plus the reception will serve as another opportunity for the Jonas Brothers to reunite onstage and perform at least one of their songs ("Lovebug" could be the perfect reunion song for the occasion. Just saying).
Justin Bieber and Hailey Baldwin
They say they're planning a "small ceremony," but the wedding between Justin Bieber and Hailey Baldwin could turn out to be just as delightfully manic as their whirlwind summer romance. You've got Baldwin's entire extended family—which includes brothers Alec and Stephen (her father), who notably do not share political beliefs (you couldn't avoid Alec's impersonation of Trump even if you tried, and Stephen has been an outspoken supporter of Trump in the past), plus Bieber's parents and younger siblings, as well as the entire Hillsong crew to keep tabs on. You know that "hot pastor" Carl Lentz and Scooter Braun could stir up quite the wedding toast together at the reception. This wedding also has the highest likelihood of a Kardashian in attendance since Kendall Jenner is close friends with Baldwin. Bieber's musical collaborator and pal DJ Khaled could be there, which means that obviously an invite should be extended to his son, Asahd, and Selena Gomez's invite will likely just get lost in the mail. She probably doesn't care, though.
Karlie Kloss and Joshua Kushner
While we wait for Taylor Swift to say anything—literally anything, even a like on Instagram would suffice—to acknowledge that her supposed best friend and OG "squad" member Karlie Kloss will be marrying into the Kushner family, we can at least pray that she'll score an invite to that wedding, and maybe another squad member who likely won't be invited to the Bieber and Baldwin extravaganza could hop onto that list as well. Joshua Kushner is almost required to invite his brother, Jared, but you probably fall into two camps when faced with the holy union of Kushner and Kloss. There's the "please do not let a Trump into this ceremony" faction, and then there are those who are messy and live for drama, and of course, would live for an Ivanka Trump wedding toast if Kushner and Kloss don't elope without an official ceremony first.
Ariana Grande and Pete Davidson
Ariana Grande and Pete Davidson's wedding may not turn out to be as elegant as the Jonas-Chopra ceremony, but this one will probably end up being the most fun. Grande and Davidson (or "Grandson," as fans of the duo call them) know how to have a good time, and there's a possibility that multiple SNL cast members, Nicki Minaj, Scooter Braun, and Joan Grande could be under one roof. And we all know both Grande and Davidson can't resist an opportunity to perform karaoke when given the chance, so fingers crossed Grande brings out those golden pipes during the reception. And you know what? Even though Selena Gomez hasn't been known to run in the same crowd as these two, she did give some supportive comments concerning their engagement, and the couple appears to be the welcoming type, so hopefully this could be the celebrity wedding that Gomez gets to attend. In the words of Grande herself, "love is lit."