Selena Gomez Responds to Ariana Grande and Pete Davidson's Engagement, But Has Yet to React to Justin Bieber and Hailey Baldwin
"It's amazing and beautiful."
---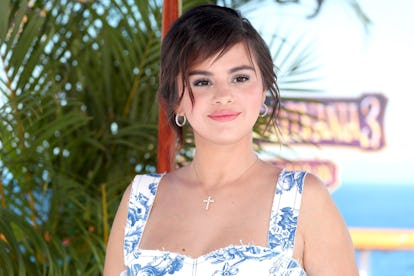 Christopher Polk/Getty Images
What does Selena Gomez think is a question that's been a given ever since news broke of Justin Bieber and Hailey Baldwin's surprise engagement. When one person got the chance to ask that, though, it was a missed opportunity. Instead, Gomez was questioned about another surprise engagement: Ariana Grande and Pete Davidson's.
When asked what her Transylvania 3 character, Mavis, would say to Ariana Grande now that she's engaged, Gomez laughed and told Clevver, "I don't know what Mavis would say. But I would say that it's amazing and beautiful."
Gomez had nothing but love for her artist peers, adding that her next album may very well have at least one collaboration with another female artist. "No matter what I do, I love to make sure that women are taken care of," she said. "I want to be so involved with that world."
What Gomez didn't share, however, was her reaction to the news that her ex had gotten engaged since they broke up in March, although a source close to her has told E! News that "Selena was surprised an engagement happened this quickly but not surprised Justin would do something like this knowing who he is." "At the end of the day though she doesn't really care," the source said. "Selena is totally over him. She had tried again to make it work that last time and it didn't work out."
Gomez offered a potential interpretation of her feelings, though, when she was spotted earlier today with a longer hairdo and a t-shirt that was emblazoned with "only the strong survive." Fittingly, she looked carefree when photographed.
Her ex, on the other hand, confirmed his engagement, writing on Instagram, "Was gonna wait a while to say anything but word travels fast, listen plain and simple Hailey I am soooo in love with everything about you!… So committed to spending my life getting to know every single part of you loving you patiently and kindLY. I promise to lead our family with honor and integrity letting Jesus through his Holy Spirit guide us in everything we do and every decision we make."
Grande, meanwhile, addressed at least one person's reaction toBieber's engagement when she clapped back at a Twitter comment suggesting "the devil works hard but [her and Bieber's manager] Scooter Braun works harder." "You do realize we are human beings who love and have lives," she wrote, "Right? And that Scooter is a wonderful human being too who care first [and] foremost [about] our health and happiness ? Love is lit. Sh-t happens. I hope to god it happens to you too. [You] deserve it." And, Gomez deserves it as well.