Selena Gomez Ditches Her Bob in Favor of Super Long Extensions
She's rocking longer strands these days.
---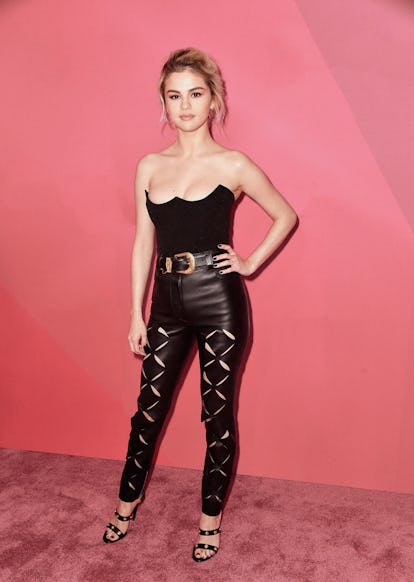 Photo courtesy of Getty Images
For months now, Selena Gomez has been the poster child of that Very Important question we all ask ourselves: "Should I cut my hair short?"; as recently as July 1, for the premiere of her film Hotel Transylvania 3, Gomez wore her hair in an enviable pulled back, wavy lob. But judging by photos that surfaced of Gomez this weekend, she's traded in her short strands for a long style that reaches halfway down her waist.
As Twitter tell us, Gomez spent the holiday weekend in New York City with friends, where she walked around SoHo and embarked on a boat cruise. She wore her hair both down and up; in a long, Ariana Grande-esque high ponytail, and later in loose, casual waves that matched her simple joggers and tee outfit.
Gomez has gone through some radical hair changes over the past year. First, she dyed her hair platinum blonde. Then, she added bangs. Most recently, she chopped her hair into a retro bob with a vintage under-curl and pinup-style bangs. Her longtime hairstylist Marissa Marino hasn't posted any updates on the latest style—yet. But if she put in a full head's worth of extensions, Gomez might be prepping for a new movie role, photo shoot, or better yet, a music video.
No one's—not even a pop star's—hair can grow a foot in one week, so we'll assume that Gomez is working with hair extensions and not some sort of super-charged Sugarbear hair growth gummy. She's worn extensions in the past, including a memorable turn at last year's New York Fashion Week (debuted while sitting front row, no less). In the past, Gomez has even described her hair as "very fake." Her new long strands may not be real, but they're still inspirational. The beauty question of the summer is now officially: "Should I grow my hair out?"
Related: Justin Bieber and Hailey Baldwin Confirm They're Engaged