Katie Holmes Is the Latest Celebrity To Proudly Display Her Gray Hair On the Red Carpet
And maybe we're moving in a direction where this will no longer be newsworthy.
---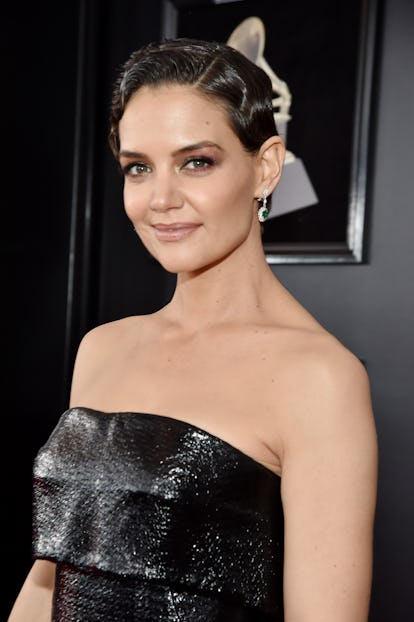 Kevin Mazur
While the Grammys red carpet on Sunday night continued the award show's annual tradition of over-the-top, daring beauty looks from pop stars, such as Lady Gaga's corseted braid to Rihanna's voluminous curls, it was actress Katie Holmes's hair that got the most attention.
No, she didn't step out with a transformative new cut, or wear a colorful wig (like Jenny McCarthy): rather, the actress allowed subtle silver streaks of gray hair to shine through her 1920s flapper-inspired pixie cut.
Gasp!
Now, there's nothing notable about a 39-year-old woman having gray hair. In fact, it's actually weird how little gray hair there is on the red carpet in general. But it's still newsworthy when Holmes and other 30-something actresses choose not to hide their natural hair color, only because it is so rare.
Things may be changing, though. Recently, 35-year-old actress Jessica Biel walked the red carpet at the Golden Globes with visibly gray roots, and 32-year-old model Chrissy Teigen tweeted her love for her incoming grays. "I have a skunk like streak of grey hair and I'm actually very into it. My cruella dreams are coming true!"
Teigen explained why such a small detail is a big deal in an interview with Bustle saying,"I just never thought anything bad about it. Even John, seeing him with salt and pepper hair, I love it. I hope he never dyes his hair." She also addressed the double standard that men and women face when it comes to gray hair: "We look at men as being so handsome with it, and then we look at women [who get gray hair] and we're like, 'Oh no!' No, no, no— I love it. And John likes it, too, OK! I think it's cool."
So, maybe Hollywood standards are shifting. One gray hair at a time.
Related: Katie Holmes and Jamie Foxx, the World's Most Elusive Celebrity Couple, Were Spotted Canoodling at a Pre-Grammys Party