Listen to Frank Ocean's Mom When It Comes to Your Seasonal Beauty Routine
Cosmetics CEO Katonya Breaux knows summer beauty and suncare.
---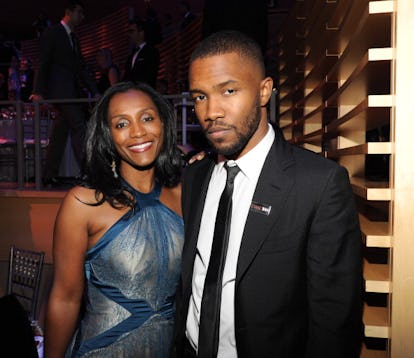 Katonya Breaux is living proof that it's never too late in life to start a new chapter. After working in construction for 20 years in New Orleans, with a focus on historical preservation and, later, rebuilding the city post-Katrina, Breaux decided to pivot on a whim. "We never know what direction life will take us," she said over the phone from Los Angeles, where she lives now. "We just always need to be prepared." For Breaux, that direction was natural-based cosmetics with an emphasis on SPF and a formula that works for all skin complexions, dubbed Unsun. Like most great ideas, the thought came to the sales manager-turned-cosmetics CEO in passing.
"I was in the bathroom that morning and white sunscreen was in my eyebrows, my hairline and all over the place so I got frustrated," Breaux said, recalling the day she created Unsun. "It's funny because around that time, maybe three years ago, I tweeted something like, 'Can someone please make a sunscreen for brown people?' I called my friend who has a hair line and said, 'Can I meet with your chemist?' I thought I would make something for me and when he sent me the samples, I put some on my family and realized it was fantastic."
Of course, it helps that Breaux had expert testers: her two sons Ryan and Christopher, the latter of whom is better known as Frank Ocean. "We're quite the threesome," Breaux said. Ahead of Unsun's latest rollout—which includes natural-based SPF tinted lip balms (the bronze is her favorite)—I caught up with the suncare advocate to talk the misconceptions about sun, how to transition your routine seasonally, and, yes, Frank Ocean's own routine.
What does your daily beauty routine look like?
Right now, I'm using Glamglow youthmud and youthcleanse. Everyday, I use SkinCeuticals C E Ferulic and an eye cream. I don't typically wear makeup other than eyeliner and mascara. Sometimes if my skin is feeling dry at night, I'll use pure shea butter or vitamin E capsules and put it everywhere and sleep on it. I moved back to Los Angeles four years ago from New Orleans, where it's very humid and my skin was always plump and moisturized, but California has been an adjustment.
How should someone's beauty routine change with seasons?
When the air is colder and drier, that calls for heavier products. Dryness wrecks havoc on your face. You don't want to apply anything so heavy that it clogs your pores. It comes down to experience, and knowing what your skin needs because everyone's skin is different.
Kiehl's has a good heavier moisturizer, but I find that when I use natural products like shea oil or a vitamin E capsule or serums, it's better during the colder, drier months. I don't use a moisturizer anymore because my sunscreen has some of the same ingredients that moisturizers do.
How do you incorporate sunscreen into your routine during colder months?
One of the things we try to impart through our brand is that the sun doesn't go away. The sun and the moon are two of our greatest constants so our need for sun protection doesn't change. For many people, sunscreen is a summer staple but it needs to be a daily staple no matter the season. Even in places where it snows, the snow reflects the sun, which can be as bad as lying on the beach. The winter sun still causes wrinkling and premature aging and skin cancer. Just like moisturizer and eye cream, sunscreen needs to be a part of your daily routine.
What is the ideal SPF?
Many sunscreen companies used to say SPF 70, 80 was best. But the FDA came down with a ruling that SPF 50 is the max. To give you perspective, SPF 50 gives you 98 percent coverage from UVA rays while SPF 30 gives you 97. It's very close. We make a 30.
What are some misconceptions that you've seen about skincare?
There's a lot of misinformation. Over 70 percent of sunscreens on the market are chemical-based and application is a problem because a lot of people aren't aware that with chemical-based sunscreen you have to put it on 20 to 30 minutes before sun exposure to allow it to absorb into your skin. No one wants that. For mineral-based with zinc and titanium, you can put them on and walk out the door because they act as a physical barrier between your skin and the sun.
A lot of people don't realize that if you're in the sun continuously, like at a beach party or picnic, you have to reapply, especially after two hours. A lot of people don't know that you can't leave sunscreen in your car because it breaks down. You want to keep sunscreen in your purse or at home. With Unsun, you can put it on and walk out the door. It doesn't need to be absorbed because it sits on the skin like a mask.
Was that a feature you knew you wanted going into creating the formula?
The one thing I needed to have was a natural-based product. I knew that I would not have chemical-based. It's easier and cheaper to create a sunscreen with chemicals, and it's harder to create one that's natural with minerals because titanium and zinc are naturally very white. When you apply them to the skin, no matter your complexion, you'll have a white or purple residue. So that's the challenge with zinc and titanium sunscreen, and a lot of women don't wear natural sunscreens because of that problem. We did a mineral-based tinted sunscreen to try to avoid that problem so people can wear natural sunscreen without the gross residue.
Outside of traditional cosmetic products, what are other ways people can take care of their skin?
I get a facial once a month at Calabasas Med Spa. I'm a vegan. I work out three days a week. I definitely do self-care. I meditate. I get regular massages and I believe that our lifestyle has as big of an effect on our skin as the creams and potions that we apply daily. So I subscribe to that belief across the board. I'm very particular about what I eat and put in my body and doing some kind of exercise. I'm a little on the lazy side so I have a trainer come to the house three days a week to make me get up and move. As you begin to age, there's certain things that you have to do and can't take for granted like you did when you were younger. I've played around a bit but I've always been particular about my skin. I don't rub my eyes. I don't touch my face. I'm very aware of what's happening with my skin.
My lifestyle is very reflective of the brand message that I try to send to women, because I do believe that there's no one thing that keeps us looking or feeling a certain way. You have to take the whole package into consideration. I have my occasional fries because that's my weakness and it's vegan, but, for the most part, I'm pretty disciplined.
On the other end of the spectrum, what's the worst skincare trend you've seen?
The one I won't do is the vampire facial. I can't quite figure out what it's really about. It's a little scary to me. Are you aware of any crazy trends?
That's right up there with snail facials.
No. Definitely not. I have to Google that. Oh god, it just gives me the creeps thinking about that. You might as well put leeches on your face.
People do that too.
There's no way. That's so gross. I was in France about a year ago and I did the fish pedicure for the first time, and I felt like there were a bunch of roaches crawling on my feet. It was so creepy. Just give me the basics.
I love getting microdermabrasion and feeling like it's sucking things away and polishing my skin. I like doing peels every now and then and coming out with baby skin. I'll go through periods when my skin is looking really dull where I use Retin-A. I have to be careful with it because my skin is really sensitive so I space it out. But it makes a big difference. That's good for women who are past a certain point.
In your experience, what's the best way to remedy a sunburn?
Don't get one in the first place [Laughs.]. I used to get sunburns all the time over my top lip and my younger son Ryan would get sunburns around the lower part of his face, really weird places. We had this aloe vera plant, so I would use that—something natural that cools and heals your skin—and vitamin E.
Ryan recently starred in a commercial for Unsun. Do you consider the brand to be somewhat of a family project?
Sometimes it is. I get their opinions. We're very close, so I go to them for a lot. Ryan is the master of what's cool and Chris [Frank Ocean] is Chris. He's knowledgeable across the board. Everyone has their own stuff going on but we're very supportive. Ryan is not typically the type to do stuff like [the commercial] but he was willing to do it for me. I think it's cool.
Do you only call him Chris? Or have you started calling him Frank too?
Why on earth would I call him Frank [laughs]? I didn't name him Frank. That's my Chris.
Where did the name Frank Ocean come from?
I really don't know. Maybe because he's so frank and authentic? I heard it with the rest of the world before [Ocean's 2011 album] Nostalgia Ultra and I said, "Oh, that's cool. I like that."
How do you raise awareness for skincare within your family? Is it something you've always taught them?
I've always put sunscreen on Ryan; he's dark, so it's a bit of a battle. But when he burned, he became more open to it. The oldest [Christopher, a.k.a. Frank Ocean] is very aware so he takes good care of his skin. He uses the best products and he gets facials. He definitely uses sunscreen. I don't recall if it was something I pushed when [Christopher] was young because I was young; I had him when I was 21 and I wasn't as aware then. Now, we're definitely an Unsun family.
Do you and Christopher exchange your favorite products?
Yeah, he's the one who introduced me to Aesop. There have been a few brands he's introduced me to because he travels and we send each other cool things. I get a lot of cool things from him.
Did you help him create a routine?
No [Laughs.]. I know that he moisturizes his face—we have similar skin types—and I know that he cleanses his skin and uses sunscreen.
Do you have any other family collaborations coming up?
No, but Unsun has new things coming up—that will be my baby. Aside from mineral-tinted lip balms with SPF 18, Unsun has a SPF 15 hand cream coming out because our necks and hands show our ages before anything else, and it's an area of the body that's overlooked. I'm going to use my hands as a model to show what it looks like when your hands look older than you do. Then, we're going to come out with a facial moisturizer and an eye cream by the end of the year. Sometime early next year, we're going to do Unsun beauty, a natural makeup line. There's a lot of work right now. I'm swamped.
20 Essential Sun Hats That Will Protect Your Skin From Harmful Rays