If You've Ever Had the Urge to Cover Katy Perry's Face in Clay, Here Is Your Chance
The singer collaborated with the artist Urs Fischer on a sculpture of herself that any and everyone can manipulate.
---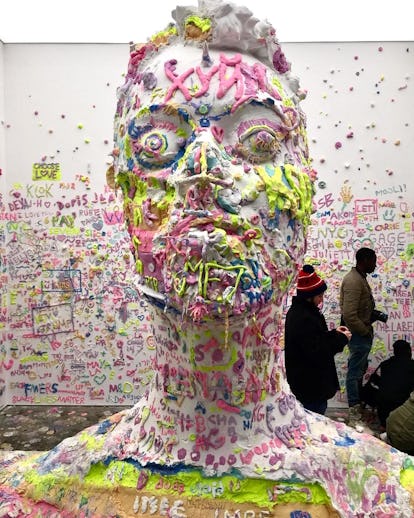 Courtesy of @thereluctantspouse
This year has been quite a busy one for Katy Perry, who spent the summer getting up to a tireless series of antics to promote her latest album, Witness—for better or for worse. After chopping off her hair and bleaching it blonde, this summer, she finally addressed the years of criticism about her cultural appropriation; live streamed 96 hours of her life to the world, including a massage during which she accidentally flashed her butt; and generally did her best to reveal "her true self."
Sure, almost all of that was promotion of her album, but now, months after her release, Perry is back at brazenly exposing herself to the public by showcasing a side of her we've definitely never seen before. Originally intended to add yet another dimension to her release of Witness, Perry reached out to the Swiss artist Urs Fischer to create a sculpture of her—one he decided should be made out of plasticine, a modeling clay, and one she then, in keeping with her newfound freedom, wanted to pose for nude. A cast of her full body ended up being up a bit too complicated, so in the end, they settled on a giant bust—one that's now on view at a temporary pop-up shop at 39 Spring Street in New York that Fischer rented through the end of the month, open daily from 10 a.m. to 8 p.m.
There's another reason, though, why Bliss, as the sculpture was named, is now so accessible: Fischer rarely makes works, and especially portraits, that are straightforward, as was memorably evidenced by that time he dug an eight-foot hole in the ground of Gavin Brown's Enterprise in 2007 and titled the work You, or that time last year he created an eight-foot tall, 1000-pound wax sculpture of the artist Julian Schnabel which was in fact a giant candle—and which was then lit every day while on view at the Whitney Museum. (Fischer is friends with Schnabel, but there's no denying that a public melting down the father of a man that runs one of the galleries that represents you is a bold move.)
It follows, then, that Bliss is open for the public to add to: The space is full of multicolor clay that's there for the taking, which anyone who happens to wander into the space can pick up and use to adorn the walls, windows, and, of course, Perry's face—an interactive installation that seems like one of the most genuine way Perry has made herself accessible as of late. (Especially seeing as the clay additions to her likeness have admittedly had some terrifying results.) Track her and the space's evolution through visitors's post on Instagram, here.
A 7-Year-Old Interviews Katy Perry:
Related: All of Katy Perry's Tireless Antics While Promoting Witness, For Better or Worse
Katy Perry Confesses to Crying to Some of Her Own Songs: