Keira Knightley Doesn't Know Who Her Love, Actually Character Actually Loved
She's only seen her 2003 holiday hit once.
---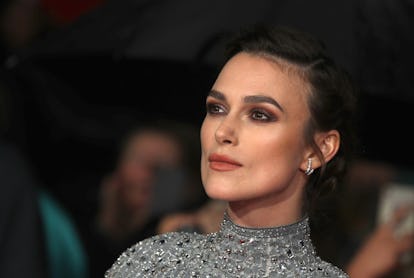 Mike Marsland/WireImage
While many people spend the holiday season watching Love, Actually over and over again, Keira Knightley prefers to do…anything other than that. Although she has a prominent (and extremely GIF-able) role in the 2003 ensemble film, Knightley shared in a recent "Autocomplete Interview" with Wired that she's only seen it once, despite the fact that it has remained a wintertime favorite among the rest of the world since its release. And it seems that single viewing wasn't a particularly memorable one, since, as was revealed in the interview, Knightley doesn't even know what happens to her character.
In the clip, Knightley and her The Nutcracker and the Four Realms costar Mackenzie Foy are tasked with responding to regularly searched queries about themselves. When Knightley is given the prompt "who does keira knightley end up with love actually," she begins by taking the question's grammar to task, before promptly realizing, with a dramatic deer-in-headlights look, that she doesn't know its answer. "I don't remember—who do I end up with in Love, Actually?" she whispers to Foy, who has somehow, in her nearly 18 years on Earth, avoided the ubiquitous Christmastime classic and thus can offer no help to a costar in need. "I mean, I'm with my husband, aren't I? Aren't I with Chiwetel Ejiofor?" an increasingly frantic Knightley asks someone off camera, adding, "I've only seen it once, and it was a really long time ago."
Someone finally does confirm to Knightley that her character, Juliet, does indeed stay with Ejiofor's Peter, despite the best efforts of Mark (Andrew Lincoln). If you, like Knightley, need a quick refresher before Love, Actually season creeps up on us once again: Mark, the best man in Juliet and Peter's wedding, has been in love with Juliet for a long time and memorably tells her so via a stack of cue cards on Christmas Eve. Though he professes his love "without hope or agenda" and walks off immediately after his slideshow, Juliet does chase after him to bestow a quick kiss—before running back home to, yes, stay with Peter.
Knightley did go on to redeem herself to a certain degree later on in the interview, since she didn't hesitate when asked where Juliet and Peter live in the film. But did she know the correct answer is Notting Hill because that apartment has stuck in her mind for nearly two decades, or was it a lucky guess based on what is, at this point, likely British law that every U.K.-set rom-com is required to include a cutesy scene in the trendy 'hood? We may never know.
Related: Keira Knightley Explains Why the Katy Perry Film Moved Her to Tears