Keith Urban Says Nicole Kidman "Regrets" Heckling Him at a Fan Event, and Joining Him Onstage
Kidman joined her country musician husband onstage after urging him to play his Ed Sheeran–penned song "Parallel Lines."
---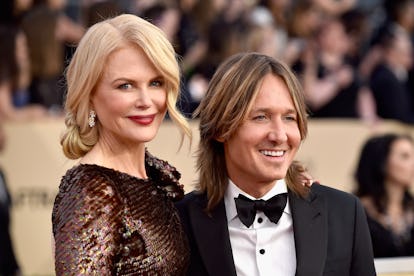 Frazer Harrison/Getty Images
Nicole Kidman is many things: an Oscar-winning actress, a recording artist, a close personal friend of Reese Witherspoon, and, apparently, a low-key heckler. At least, that's how she ended up onstage with her husband, the country music star Keith Urban, at an event promoting his new album, Graffiti U, in Nashville earlier this week.
Among the new songs on Graffiti U, which is slated for release next Friday, is a track written in part by one Ed Sheeran, entitled "Parallel Lines"; as Urban, speaking in front of an audience of an estimated 150 fans, recounted how it came to be, a voice piped up from the back: "Play it!"
That voice was none other than Kidman herself, who, in the process of heckling Urban, found herself called onto the stage. (This must have been planned, right?) "You can come and sing it with me," he replied, "and I'll do it." So Kidman, wearing a polkadot wrap dress and black ankle boots, made her way to the stage, perched on a chair like a real Nashville singer-songwriter, and sang along with Urban as he launched into the song. (Sheeran apparently also contributed background vocals to the track—so perhaps Kidman was just filling in for the absent Brit.)
On Friday, Urban appeared on Ellen DeGeneres's show to promote the album and discussed their brief duet. It seems the whole thing was quite unexpected: He says he "never thought" Kidman would actually come onstage with him; he described the prospect as "excruciating" for her. "She regrets it now," he added—so perhaps Kidman's short-lived career as a nightclub heckler has already come to a close. (Unlike Urban, Kidman did not post a clip from the event on her Instagram. Read into that what you will.)
Either way, it appears that Kidman has learned that heckling has consequences; on Saturday, Urban headlined the Stagecoach music festival, and Kidman stayed offstage, though not entirely out of the eye of the public. The couple were spotted smiling and cuddling backstage.