Nicole Kidman Has Finally Joined Instagram After Mastering Facebook
Is Keith Urban the world's newest Instagram husband?
---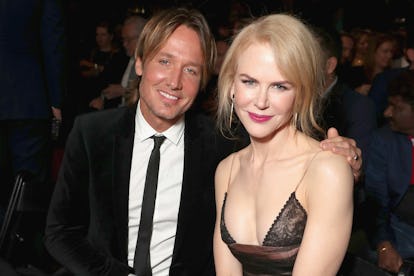 Todd Williamson/Getty Images
Sometime in the past year, Nicole Kidman discovered social media, and last night, on the occasion of her win at the Golden Globes, she decided to go full in and join the rest of her fellow Big Little Lies castmates on Instagram. The star, using the handle @NicoleKidman (of course), posted her first 'gram earlier today. No word on if Keith Urban is also the world's newest Instagram husband, but Kidman got someone to snap a picture of her in a near-empty Beverly Hilton ballroom while she wore her black Givenchy dress and triumphantly held up her newly acquired Globe. She also gave a shot out to the #TimesUp movement.
"About last night……shut the place down!!!" she wrote. "I am so proud of my Big Little Lies family and to have stood with my sisters on such a special night. #TimesUp."
In just three hours on the site she's already racked up over 337,000 followers.
She quickly followed it up with a more professional shot of the Big Little Lies cast celebrating their Best Limited Series win last night. It's nice that they let Reece Witherspoon hold two trophies.
For years, if you wanted to connect with Kidman on social media you had to settle for her official Facebook page, and even then it certainly seemed to be run by someone else for the longest time. The usual fare was magazine or professional red carpet photo paired with a quote taken from one of the star's interviews. It certainly seemed like perhaps Kidman has some social media agency running the show.
At some point in the past year, around the time Big Little Lies became a phenomenon, the tone of the Facebook page shifted a bit with more candid images that seemed to come straight from an iPhone camera and messages that came directly from Kidman herself. She gave shout outs to her husband, famous friends like Witherspoon and Sheryl Crow, and, obviously, a few brands she happens to represent.
Her daughters even started making occasional appearances on the page.
We should expect more of the same out of her Instagram. Though, if she needs any pointers, she can always ask the rest of the girls when they shoot Big Little Lies season 2. Reese Witherspoon has spun off a book club from her own Instagram. Laura Dern loves giving shoutouts to the many memes that involve Laura Dern on hers. Let us not forget the time that Dern and Witherspoon shared portions of their white wine-filled joint vacation on Instagram stories. Zoë Kravitz and Shailene Woodley are basically digital natives with follower counts in the millions.
Related: Natalie Portman Has Finally Joined Instagram—and Already Entirely Devoted Her Account to Taking Action Against Sexual Assault
Golden Globes 2018: Even at the After Parties, the Stars Continued to Wear Black
Reese Witherspoon, Rowan Blanchard, Ava Elizabeth Phillippe, and Zoe Kravitz at the 2018 InStyle and Warner Bros. 75th Annual Golden Globe Awards Post-Party at The Beverly Hilton Hotel on January 7.

Matt Winkelmeyer/Getty Images for InStyle
Emma Watson, Eva Longoria, Susan Sarandon and Rosa Clemente at the 2018 InStyle and Warner Bros. 75th Annual Golden Globe Awards Post-Party at The Beverly Hilton Hotel on January 7.

Photo by Charley Gallay/Getty Images for InStyle
James Franco and Tommy Wiseau attend the 2018 InStyle and Warner Bros. 75th Annual Golden Globe Awards Post-Party at The Beverly Hilton Hotel on January 7.

Photo by Matt Winkelmeyer/Getty Images for InStyle
Busy Philipps and Michelle Williams attend the 2018 InStyle and Warner Bros. 75th Annual Golden Globe Awards Post-Party at The Beverly Hilton Hotel on January 7.

Photo by Donato Sardella/Getty Images for InStyle
Elisabeth Moss and Shailene Woodley attend the 2018 InStyle and Warner Bros. 75th Annual Golden Globe Awards Post-Party at The Beverly Hilton Hotel on January 7.

Photo by Matt Winkelmeyer/Getty Images for InStyle
Salma Hayek, Mariah Carey, and Ashley Judd attend the 2018 InStyle and Warner Bros. 75th Annual Golden Globe Awards Post-Party at The Beverly Hilton Hotel on January 7.

Photo by Donato Sardella/Getty Images for InStyle
Kendall Jenner and Hailey Baldwin attend the 2018 InStyle and Warner Bros. 75th Annual Golden Globe Awards Post-Party at The Beverly Hilton Hotel on January 7.

Photo by Charley Gallay/Getty Images for InStyle
Tonya Harding and Allison Janney attend the 2018 InStyle and Warner Bros. 75th Annual Golden Globe Awards Post-Party at The Beverly Hilton Hotel on January 7.

Photo by Charley Gallay/Getty Images for InStyle
Nick Jonas and Joe Jonas attend FIJI Water at HFPAs Official Viewing and After-Party at the Wilshire Garden inside The Beverly Hilton on January 7.

Photo by Stefanie Keenan/Getty Images for FIJI Water
Armie Hammer and Elizabeth Chambers attend FIJI Water at HFPAs Official Viewing and After-Party at the Wilshire Garden inside The Beverly Hilton on January 7.

Photo by Stefanie Keenan/Getty Images for FIJI Water
Laura Dern and Billie Lourd attend Moet & Chandon celebrates the 3rd annual Moet Moment Film Festival and kicks off Golden Globes week at Poppy on January 5.

Photo by Michael Kovac/Getty Images for Moet and Chandon
Lili Reinhart and Camila Mendes attend the Moet Hennessy John Legend's HEAVEN with the Art of Elysium at Barker Hangar on January 6 in Santa Monica.

Photo by Joe Scarnici/Getty Images for Moet Hennessy
Katherine Langford and Nick Jonas attend The BAFTA Los Angeles Tea Party at Four Seasons Hotel Los Angeles at Beverly Hills on January 6.

Photo by Kevork Djansezian/BAFTA LA/Getty Images for BAFTA LA
Brooklynn Prince and Willem Dafoe attend The BAFTA Los Angeles Tea Party at Four Seasons Hotel Los Angeles at Beverly Hills on January 6.

Photo by Frazer Harrison/BAFTA LA/Getty Images for BAFTA LA
Naomi Campbell and Mary J. Blige attend The BAFTA Los Angeles Tea Party at Four Seasons Hotel Los Angeles at Beverly Hills on January 6.

Photo by Frazer Harrison/BAFTA LA/Getty Images for BAFTA LA
Frankie Shaw and Connie Britton at the 2018 Showtime Golden Globes Party at the Sunset Tower Hotel in West Hollywood on January 6.

Eric Charbonneau/SHOWTIME
Paul Giamatti and Stephen Colbert at the 2018 Showtime Golden Globes Party a the Sunset Tower Hotel in West Hollywood on January 6.

Eric Charbonneau/SHOWTIME