Kelly Cutrone Accuses Russell Simmons of Attempted Rape: "The #NotMe Thing? I'm Doing a #YeahYou"
See Cutrone's pitch-perfect response to Russell Simmons's #NotMe Instagram post.
---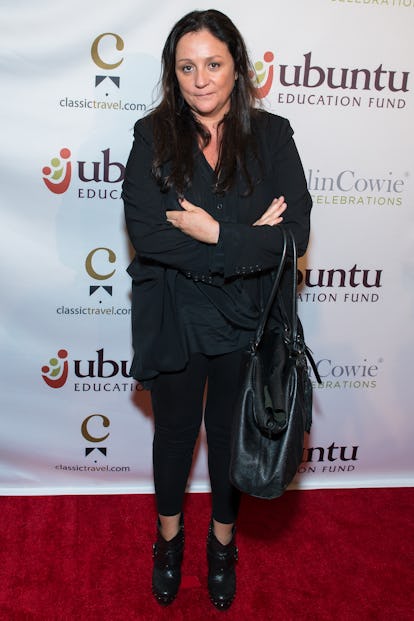 Michael Stewart/Getty Images
On Wednesday, the New York Times published the accounts of three women who went on the record to accuse music mogul Russell Simmons of rape. Allegations of Simmons's misconduct—including, reportedly, several incidents in conjunction with director Brett Ratner, who has likewise been accused of sexual assault by multiple women—had been published previously, beginning last month with a Los Angeles Times story where Keri Claussen Khalighi accused Simmons of forcing her to perform oral sex on him. But with the latest Times story, the New York City Police Department finally opted to open an investigation. Then, on Thursday, Simmons took to Instagram to deny the claims in two separate posts. Captioning an image that simply read "#NOTME" in block capitals, the Def Jam co-founder wrote, "Today, I begin to properly defend myself. I will prove without any doubt that I am innocent of all rape charges," he wrote. "Today, I will focus on "The Original Sin" (Keri Claussen), the claim that created this insane pile on of my #MeToo. Stay tuned! We'll share information today… And tomorrow the case of Jenny Lumet."
"My intention is not to diminish the #MeToo movement in anyway, but instead hold my accusers accountable. #NotMe Again, this is not a movement against or even in conjunction with #Metoo," he continued. "It's just a statement about my innocence." In another post, he published a full statement that read, in part, "I will relentlessly fight against any untruthful character assassination that paints me as a man of violence."
On Thursday evening, publicist Kelly Cutrone responded to Simmons's #NotMe post with her own allegation: that Simmons attempted to rape her more than two decades ago. In 1991, Cutrone, then 26, ran into Simmons, who was at that point an acquaintance, at a party. They walked together to another party, and he proceeded to invited her back to his apartment. She turned this down, and he invited her instead to come to another friend's apartment with him. But rather than taking her to their supposed destination, she now says, he drove her to his own apartment, where he attempted to assault her.
"I started kicking him really, really hard, screaming, telling him to get the f–k off of me and that I would have him killed if he ever f–king laid a hand on me," she said, according to Page Six. (Apparently, she even threatened to take the story to Page Six at the time. "I was a publicist!" she said.)
When Cutrone saw Simmons's Instagram post, she felt compelled to speak out, according to the column, and hers, in many ways, is the ideal response to the Simmons hashtag, which, much as he might deny it, can only be viewed in the context of #MeToo. "The #NotMe thing? I'm going to do a #YeahYou. F–k you," Cutrone said. (This, she has since amended to #YesYou.) #NotMe, she added, is "a call to every man who wants the right to abuse women to continue."
She cited the pattern of responses of men accused of assault and harassment (including Simmons as well as Harvey Weinstein)—"hey, I'm really, really sorry and I'm going to step away from my business," as she described it—noting that many of their victims don't have the same option to retreat from work and public life "because they have bills to pay and they haven't made $100 million."