Kellyanne Conway, the White House's "No. 1 Leaker," Reportedly Can't Stop "Dissing Her Colleagues"
According to a new tell-all book about the Trump administration.
---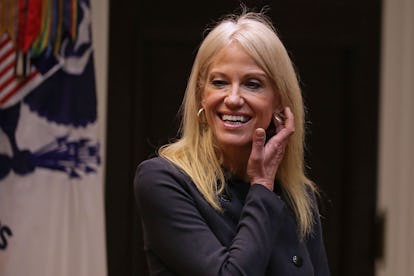 Chip Somodevilla/Getty Images
It's been quite a bit since we heard from Kellyanne Conway, Donald Trump's counselor and former favorite, even though she's been doing her job as usual; the rest of the Trump administration seems to have been simply so chaotic that it's stolen all her headlines. (All the better for her, since that likely means she has more time to invest in her other ambition: to "dive into social hosting.")
But on Sunday, when Ronald Kessler, the author of the upcoming insider tell-all The Trump White House: Changing the Rules of the Game appeared on CNN to speak with Jake Tapper, he made the case that Conway has been keeping just as busy as before—she's simply been doing so behind the scenes. Though Kessler in fact often defends Trump even when it comes to controversies like that infamous Access Hollywood tape, saying he'll be remembered as a "great president," he's definitely not afraid to go in on Conway, who's first on his list when detailing the "plenty of negative items" and "juicy tidbits" to be found alongside his praise of Trump in the book.
Right off the bat, Kessler proffers an inside answer to those "wonder[ing] why there are so many leaks out of the White House": that Kellyanne Conway is the administration's "no. 1 leaker." That may be Kessler's opinion, but he certainly has evidence to suggest it's true. When he was interviewing Conway for his book, "she forgot that she was on record, and she started lashing into Reince Priebus," he told Tapper. "She said the most mean, cutting, and obviously untrue things about Reince, and I didn't include them in the book because they were so unfair."
Since Kessler is wont to defend Trump, it's unfortunate that he didn't publish those "things" so readers could form their own opinions, or to see just how "untrue" Conway can get. At least while on air, he also didn't reveal what else she's leaked. (On that front, there is, of course, plenty to choose from, from the never-ending rumors about the difficulties in Trump's marriage to Melania to the first lady wielding much more influence than many have thought.)
Kessler definitely agrees with the latter, writing that Melania has tremendous impact on policy and strategy and sits in on key meetings. Also in agreement is another of Kessler's sources: Sean Spicer, the White House's former press secretary. "She is a very powerful behind-the-scenes force," Spicer told Kessler of Melania. "I don't think people fully recognize how influential she is and what a grounded political sense she has on her own."
It's unclear whether or not Conway's leaks have ever been about Melania, but Kessler said that even just in his interview with Conway, she wasn't afraid to "[light] into Jared and Ivanka, saying that they leak against Steve Bannon." That's saying something for Kessler to mention, given that he also readily shows distaste for Jared Kushner and Ivanka Trump himself: In the book, he writes that they "push the most disastrous and foolish decisions of Trump's presidency."
Without Ivanka to trust; with Hope Hicks, one of his former closest aides, now gone; and with Melania, whom Trump has already, um, "joked," will be next to leave the White House, and who's no doubt just a bit upset with her husband given the nonstop news of his reported past affair with Stormy Daniels; Conway just might be the only one Trump has these days. If he does indeed go back to his OG advisor, it seems that the circus has only just begun.
"I know that White House aides have seen texts that she has sent to other journalists, dissing her colleagues, leaking material," Kessler said. And with Trump potentially back at the top of her list of colleagues, it looks like we're about to be privy to many more of the president's comments in the vein of "shithole countries."
Related: Donald Trump "Jokes" That Melania Trump Will Be the Next One to Leave the White House