Like Their Grandfather Tony Bennett, Kelsey and Rémy Bennett Are Advocating for Social Equality Through Art
Meet the Bennett sisters, feminist artist-curators and granddaughters of Tony Bennett.
---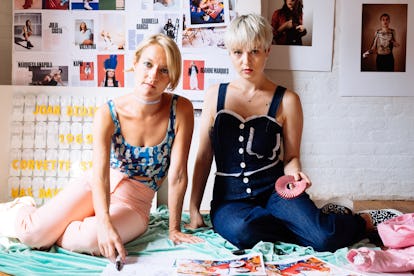 Charlie Rubin, courtesy of Vice
The opening of a Melissa shoe store might not seem like an art-world event, but in the past, the installations in the Galeria Melissa concept shops have been under the creative direction of the likes of Karl Lagerfeld and the late Zaha Hadid—and now Kelsey and Rémy Bennett, the grand-daughters of the legendary crooner Tony Bennett. When they were charged with curating the futuristic digital art installation in a store in New York's Soho this summer, the Bennett sisters (Kelsey is 33, Rémy is 32) decided to focus on the word "harmony." And while they were mainly thinking of it in terms of bringing together society with technology, they also ended up creating a diverse scene: Amid the crowd gathered at the opening party in late July was everyone from Hood by Air CEO Leilah Weinraub to rapper Princess Nokia to artist Hayden Dunham to the Bennetts' "favorite person in the entire world," their 10-year-old cousin.
Born a year apart, the sisters are proud of the fact that their shared aesthetic runs as deep as their blood; they've been working on like-minded art projects together in the same irreverent vein since childhood. Stepping into artist Sam Cannon's mirrored installation at the entrance of Galeria Melissa, I couldn't help but recall the photo of the mirrored room in London's Abbey Road Studios that Kelsey set-designed six years ago. Her grandfather had brought her and her sister along with him on a world tour for his album Duets II so that along the way, she could photograph the likes of Aretha Franklin and Willie Nelson—and Amy Winehouse at Abbey Road, just two weeks before her death in 2011.
The Bennetts have always gathered together beneath the artistic family tree, in part because pretty much every corner of the Englewood, New Jersey house where the sisters grew up became a breeding ground for art. For as long as she was still small enough to fit, Kelsey's preferred place of rest, for example, was on top of the pillow inside a snare drum in the recording studio that was their basement. Rémy could often be found close by, helping on back-up vocals, maybe, or just watching the likes of Salt-N-Pepa who recorded there.
While Kelsey typically sticks to photography, and Rémy to directing and writing, like the other Bennetts, they tend to dabble: "Everyone has this thing in our family where they don't necessarily stick to one medium," Rémy said. Their grandfather, in addition to being one of the most famous voices on earth, also happens to be a painter; their father is a musician and music manager (he manages Tony); their mother was a kindergarten art teacher; their maternal grandmother was an artist, whose oeuvre includes a mural of Eddie Murphy's family bowling that decorates the alley in the comedian's basement. It was the sisters' paternal grandmother, though—Sandy Bennett, Tony's late wife—who most encouraged their art, and who got Kelsey in the darkroom at age 12. Her first photographs were of (who else?) Rémy.
Even at that point, the pictures reflected the sisters' favorite combination—blood and glitter—and the influence of the horror movies they both loved from an early age. There was, shockingly, a period when the Bennetts, who now live in New York and see each other every day, were apart: For five years, Rémy studied acting and directing for five years at a conservancy in London; the sisters would send each other mix CDs and essentially "went into survival mode." Upon her return, they started teaming up mostly on projects like music videos for bands like Hurray for the Riff Raff and Skaters—other New Yorkers and longtime friends who felt like family.
In 2015, they decided to carry over their familial approach to the art world—and particularly to women artists who share their sense of irreverence. (It's no mistake that the artists they tapped for Galeria Melissa, the performance artist Signe Pierce and the GIF savant Sam Cannon, have become part of their repertory.) Their curating endeavors began when, after attending their friends Ambre Kelly and Andrew Gori's art fair Spring/Break for years, they decided to contribute to it, too, curating a provocative group exhibition with the magazine 1985, which Rémy was then writing for, named, provocatively, "Glory Hole." Rather than just another haphazard amateur debut, the immersive room quickly became one of the best installations of Armory Week 2016, thanks in large part to Rémy's lived-in, cutesy lavender bedroom, which she covered with spray paint, fake blood, and torturous Polaroids to communicate that it belonged to a cam girl (her collaborator, Playboy editor Anna Del Gaizo, provided actual dick pics she had received in her own webcam past) who is also a cannibalistic serial killer. (To learn more about her, visitors were invited to curl up in the fictional character's sheets and watch her star in their short film.)
"We wanted to welcome people in to the forbidden—and have a great time," said Kelsey. "Obviously art is precious, but at the same time, we want to present it in the way that it feels like you're breaking that wall."
"It should be immersive, and it should be messy," Rémy, who cites Sissy Spacek in Carrie as her one of her favorite examples of "everything I love in art," continued. "A lot of what we do is very irreverent, but we want there to be something funny about it too. It's not so self-serious—we just want to push any boundary, whatever that may be."
With Cannon's signature Mutation GIFs, Tafv Sampson and Nick Des Jardin's recreation of a den covered in pin-up photos, and more jarring contributions, the show drew eyes not just inside the fair, but from around the rest of the New York art world, too—including the operators of the downtown gallery Untitled Space, who scouted the Bennetts to curate another show, much to their surprise.
"They scouted us as 'feminist curators,' which, you know, we wouldn't necessarily identify ourselves as," recalled Kelsey, who like Rémy has always thought of their feminism as so obvious it should go unspoken. "But we were like, Okay cool, that works if that's how people are perceiving our work, we're really happy to jump into that."
The resulting exhibition, "Lifeforce," which tapped two dozen women artists, including Cannon, Pierce, and Maggie Dunlap from their usual crew, as well as a mix of established names like Jeanette Hayes and teens like Panteha Abareshi, instead bypassed gender completely. "That was basically how we dealt with 'doing a feminist show,' because ultimately we really really believe in transcending that stuff," said Rémy. She and Kelsey were mainly inspired by Donna Haraway's '80s essay A Cyborg Manifesto, '70s sci-fi novels written by women, and Afrofuturism. "And every single artist that we spoke with on this topic was in line: We're not trying to create more binaries and labels."
Still, the pair realizes that singling out artists who identify as women, and dealing with questions like what it's like to be a "female filmmaker," are a necessary part of moving society forward. Their grandfather, for one, has made it part of the family agenda: Tony Bennett rescued prisoners from a concentration camp early in life when he was drafted for World War II, and was a part of the Civil Rights Movement throughout his music career. "Our grandfather really fought for integration and civil rights in a very extreme way—he literally marched alongside Martin Luther King [Jr.] in Selma," said Kelsey, clearly proud.
Like his wife, who passed away shortly before the opening of "Lifeforce" and whom the show is dedicated to, Tony, who still paints and just took up sculpting, has always been supportive of Kelsey and Rémy. He makes sure to drop by their openings, too—schedule permitting. "It's funny, because he has such a busy life and he's 90 years old," Rémy said, laughing.
Lately, Kelsey and Rémy have been busy with their own endeavors. "We've been traveling nonstop for four months," Kelsey said. "Right now we're in the middle of writing, producing, and directing seven small documentaries about female artists," Rémy added. She was clearly stressed about the long day of editing ahead of them. They're releasing the films with The Front, a media company run entirely by women, hopefully within the next month. (The first, which focuses on Abareshi, the teen illustrator they discovered for "Lifeforce," was already released.)
"I feel like there's this important movement going on right now between female artists—like an actual camaraderie," Kelsey said. "But I think at a certain point—when women stop being asked the question of how their art relates to their gender—that's then women will have a voice that can reach larger audiences," she went on as Rémy nodded. "And that's what we're moving towards. That's the goal."
Related: Meet Tschabalala Self, the 26-Year-Old Artist Empowering the Lives of Black Women
See Kendall Jenner, Performance Artist, Channel Icons Like Marina Abramovic and Yoko Ono: