Why Kendall Jenner Probably Isn't Walking in the 2017 Victoria's Secret Fashion Show
Sources say she's giving up her wings.
---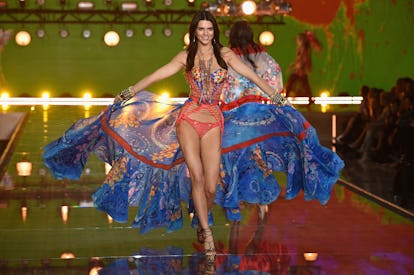 Dimitrios Kambouris
Kendall Jenner is officially not walking in the Victoria's Secret Fashion Show this year. Though the model and reality star has walked in the brand's two previous shows, saying, "it's always been a dream of mine," TMZ is reporting that she's bidding adieu to the annual runway spectacular — at least for this year.
As models have been taking to social media, one at a time, to confirm their status as one of this year's Victoria's Secret Fashion Show runway models, there were a few noticeable stragglers. First, Bella Hadid was late confirming that she would take the stage in Shanghai for her second-ever runway appearance for the brand. Then, just two days ago, sister Gigi took to Instagram to share that she, too, would be returning for her third walk down the catwalk. Many assumed that Jenner would follow suit–until now.
For the past year, Jenner has been modeling for La Perla, which seems to act as a conflict of interest. To set the record straight that she had not, in fact, been rejected by Victoria's Secret (without making a statement at all, by the way…), she took to social media, posting an image from her latest La Perla campaign, captioned, "write to me ? @laperlalingerie LaPerla_Ambassador." Subtle.
TMZ's "Kardashian family sources" claim, "Kendall didn't even audition for the gig because she has a major deal to be the face — and other body parts — of La Perla." They went on to add, "We're told her multi-million dollar deal with the upscale lingerie line includes a non-compete clause." In the meantime, while Jenner takes a break from the show, Karlie Kloss will be making her triumphant return to the stage after a two-year hiatus. See all the confirmed models here.
While Kendall Jenner's relationship with La Perla could, in fact, last for a long time to come, our fingers are crossed she will find her way back to the Victoria's Secret family soon.
Related: Kendall Jenner Strips Down in New La Perla Lingerie Campaign Image
Kendall Jenner Gets Real: "I'm Weird, I Love My Tits Being Out"