Kendall Jenner Attended Ex Harry Styles's Final Concert
And she wasn't the only celebrity in the crowd.
---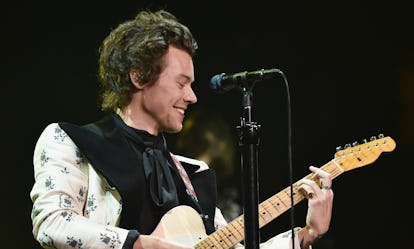 Photo by Kevin Mazur/Getty Images for HS
While Harry Styles's ex Taylor Swift played a stadium concert and hung out with her gal pals, another one of his exes was in the audience of his own show. Kendall Jenner, the supermodel reality star who dated the pop star off and on during the end of the Obama years, attended the final stop on Styles's nearly yearlong solo tour, Harry Styles: Live on Tour, Saturday night at the Forum, in L.A. (If you completely forgot that these two symmetrically featured humanoids ever coupled, this timeline may refresh your memory.)
According to People, "The singer's ex-girlfriend Kendall Jenner was spotted dancing and singing enthusiastically along in the crowd with hairstylist Jen Atkin. Shawn Mendes was also seen a few seats down from the reality star and model, along with Meghan Trainor and her fiancé Daryl Sabara, Phoebe Tonkin and Michael Clifford."
The former One Direction member hasn't addressed seeing Kendall at his show, but he did take time to talk to his audience and the fans, saying, "This doesn't happen to people like me very often at all, and there is one single reason why I get to do this job, and it's because of every single one of you"—even though the "one single reason" for his career is probably Simon Cowell but, you know, whatever. "I thank you from the bottom of my heart. You have changed my life. I love you so much. Thank you, thank you, thank you from the bottom of my heart," he added. "I'm gonna go away for a little while and make some more music, and then I'll see you very soon. It's been an honor to play in front of you every night…and thank you for trusting me by coming to a concert at all. Thank you," he continued.
Related: Harry Styles Proclaimed His Enduring Love for Taylor Swift's "22" During a Concert
The Best Broadway Backstage Photos by Beyoncé, Harry Styles, and More Celebrities
Beyoncé visiting Ben Platt backstage at Dear Evan Hansen in September 2017.

Photo by @bensplatt.
Andy Cohen and Amy Sedaris pose outside the August Wilson Theatre in honor of Mean Girls in April 2018.

Photo by @bravoandy.
Olivia Wilde backstage at her own play, 1984, in July 2017.

Photo by @oliviawilde.
Lupita Nyong'o and Angela Bassett went backstage at Children of a Lesser God in April 2018.

Photo by @vancityjax.
Harry Styles saw Ben Platt perform in Dear Evan Hansen at the Music Box Theater in September 2017.

Photo by @bensplatt.
Amy Schumer and Bridgett Everett took a selfie backstage at the Schubert Theatre after a performance of Hello, Dolly! in March 2018.

Photo by @amyschumer.
Tina Fey and her family visit Joshua Groben after a performance of The Great Comet of 1812 at the Imperial Theatre in May 2017.

Photo by @joshgroban.
Sarah Jessica Parker snapped a photo of Nathan Lane's copy of Tony Kushner's Angels in America while in his dressing room at the Neil Simon Theatre in May 2018.

Photo by @sarahjessicaparker.
Busy Philipps and Joshua Jackson had an impromptu Dawson's Creek reunion backstage at Studio 54 in May 2018.

Photo by @busyphilipps.
Katie Couric posed with Chris Evans (and his mustache) at the Second Stage Theater in between performances of Lobby Hero in March 2018.

Photo by @katiecouric.
Hilary Duff brought her son to see SpongeBob SquarePants: The Broadway Musical at the Palace Theatre in May 2018.

Photo by @hilaryduff.
Gayle King and Oprah proudly showed off their playbills at the Schubert Theatre during Bette Midler's performance in Hello, Dolly! in May 2017.

Photo by @gayleking.
Sarah Paulson shared a photo of her A Doll's House, Part 2 playbills and a couple cocktails at the John Golden Theatre.

Photo by @mssarahcatharinepaulson.
Josh Groban and Mandy Patinkin posed together backstage in June 2017.

Photo by @joshgroban.
Billy Eichner posed in the audience before a performance of Hello, Dolly! at the Schubert Theater in February 2018.

Photo by @billyeichner.
Darren Criss visited Matt Bomer backstage at Booth's Theatre after a performance of The Boys in the Band in June 2018.

Photo by @mattbomer.