Kendall Jenner Jokes About Being the Only One in Her Family Without Children
And it couldn't be more relatable.
---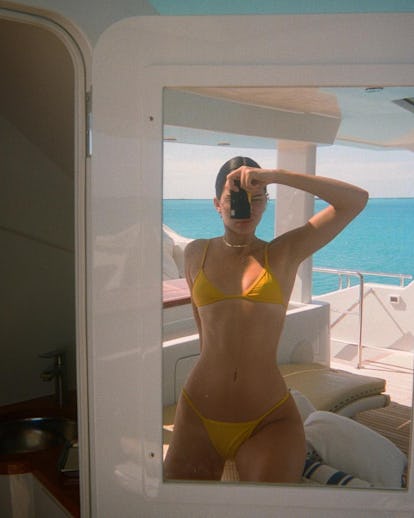 @kendalljenner
There are two kinds of people: The ones who post photos of their children, and those who don't, yet still have their feeds clogged by other people's kids. Kendall Jenner falls into the second category. The 23-year-old is the only one in the Kardashian-Jenner family who has yet to have a child, and she's celebrating that fact, as she should.
The day after Thanksgiving, as most parents with social media accounts shared their family pictures from the holiday, Jenner uploaded a photo of her most loved one: herself. She threw shade in the most relatable way when she posted a thirst trap photo that showed her flexing in a bikini with the caption, "All my siblings posting their babies and sh-t and i'm just like."
Jenner is obviously enjoying the glamorous life of having no parental responsibilities, let alone all of the privileges afforded to her by her success and fame as a model, designer, and reality TV star. She does take her title as an aunt seriously, though, as anyone can see on Keeping Up With the Kardashians. She recently said as much, too, when revealing that she and Stormi Webster have a "special connection," out of all her nieces and nephews. "I just try and hang around, be cool," she said of being an aunt. "I love connecting with them. Mason loves video games, and I love videos games, so he and I just sit around and bond over video games and rap music and all the things he loves. It's nice when they get a bit older and you can have full conversations with them."
Despite posting a solo photo the day after Thanksgiving, Jenner spent the holiday with the rest of her family. On the holiday, she shared a few moments from their celebration, which included a massive group photo shoot by an impossibly large firepit. She also shared photos of the Kardashian-Jenners' table setup and food, with the caption, "so thankful wow."
As for whether or not she hopes to have her own family to post photos of someday, Jenner recently gave her take to Cara Delevingne. "It's going to be interesting to see what the world is like when I do have kids," she said, after acknowledging that right now is a "super scary" time to bring kids into the world. "But I definitely don't plan on having them anytime soon." For now, she's all about working on her relationship with herself—and posting thirst traps about it.