Kendall Jenner Apologizes for Critiquing Fellow Models for How Much They Work
She claims to have been "misrepresented."
---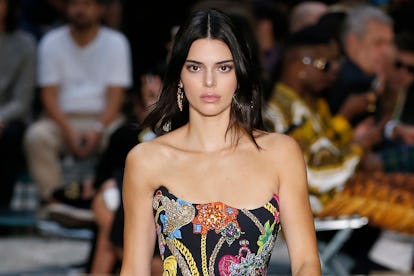 Estrop/Getty Images
Last week, the normally interview-shy Kendall Jenner graced the cover of Love's 10th anniversary issue, granting the magazine a short conversation to accompany all of her Alasdair McLellan lensed spread. As you're probably now aware, one particular quote from the article didn't got over so well with many of her fellow models.
"Since the beginning we've been super selective about what shows I would do. I was never one of those girls who would do like 30 shows a season or whatever the f*ck those girls do," Jenner told Love. "More power to 'em. But I had a million jobs, not only catwalks but everything else." Unsurprisingly, a copious amount of models took issue with Jenner's words, reminding her, among other things, that 1) They have to pay the bills, 2) They don't come from a "celebrity" family, and 3) They're rarely financially comfortable to refuse work if offered. The uproarious response to Jenner's interview has seemingly reached back to Kardashian-Jenner HQ, with the model offering defense of her words.
"I was misrepresented in a recent interview over the weekend and it's important to clarify the meaning. It was intended to be entirely complimentary but unfortunately, my words were twisted and taken out of context. I want to be clear," she wrote on Twitter. "The respect that I have for my peers is immeasurable! I get to experience first hand their tireless commitment, their work ethic, the endless days, the lack of sleep, separation from family and friends, stress of traveling, the toll on physical and mental health, yet they still make it all look effortless and beautiful. I'm inspired by so many of these people I have had the good fortune to work alongside!"
.