Kendall Jenner Floats Topless in a Pond, As One Does
She's talked about being "cool with my breasts" before.
---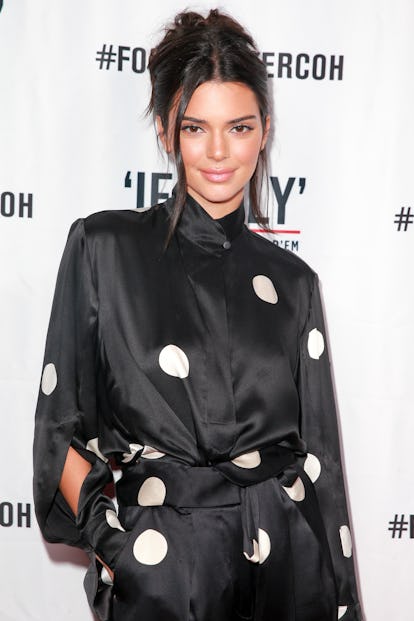 Photo courtesy of Getty Images.
Kendall Jenner once famously told W that she's "weird" because she "loves having her tits out." In case you still had any doubts about that, her latest photo shoot for Love magazine's 10th anniversary issue should remove them. As Love editor Katie Grand posted on Instagram, photographer Alasdair McLellan shot the model swimming around in a pond wearing just a red swimsuit bottom.
As it turns out, this is just one of several "characters" that Kendall was playing for different photo shoots. In the others, she can be seen posing with a teddy bear and a '60s beehive wig in front of a stormy background and smiling at the camera while a colorful coat floats behind her. "I was wearing a brown wig, crazy makeup, and they were like, OK, hold this teddy bear. And the next one — I don't smoke cigarettes, so they light this cigarette and they're like, can you hold it? And I'm like, OK, now I'm the badass fcked-up girl," Kendall said about her photo shoot, according to an Instagram post by Love* magazine. That video also shows extended clips of Kendall swimming in the pond, playing with pearl necklaces, and walking around in a field for her photoshoots.
Previously, Kendall has talked about being a proud proponent of #FreetheNipple. "I really don't see what the big deal is with going braless. I think it's cool and I really just don't care!" Kendall declared in 2016. "It's sexy, it's comfortable, and I'm cool with my breasts. That's it!"
"Lately, it's like I'm either braless or I have my bra out," she added three months later. "I'm all about freeing the nipple. […] I just think it's cool to show off what's under your shirt — whether that's a cute bralette or just skin."
Related: Kendall Jenner Is Going to Continue Going Braless on the Red Carpet, Thank You
The Most Provocative, NSFW Fashion Ad Campaigns of 2017
Two months before Beyoncé wore the already buzzy label Palomo Spain in her first-ever post-twins pregnancy photo, which was one of this year's most liked Instagrams, Spain was already attracting quite a bit of attention to itself with its fall/winter 2017 campaign photographed by 19-year-old Kito Muñoz, where completely nude men parade around the Andalusian countryside right alongside eccentrically clothed ones.

Courtesy of Palomo Spain
Palomo Spain proves once again that you don't actually need to feature any clothes to make a fashion campaign.

Courtesy of Palomo Spain
Also lacking in the clothing department: Simon Porte Jacquemus might be known for his eccentric designs, but there was nary a stitch of cloth in sight apart from the giant beach umbrella in Jacquemus's completely nude fall 2017 campaign, photographed by David Luraschi.

Courtesy of Jacquemus
For his first-ever campaign at Calvin Klein, Raf Simons had his own spin on the brand's legendarily provocative ads by plopping a handful of boys in briefs down in front of massive artworks by heavyweights like Sterling Ruby and Andy Warhol. The campaign was shot by Willy Vanderperre.
This might have been any old photo of Cara Delevingne modeling for a storied French fashion house, except that Dior didn't tap the 25-year-old to model one of their collections, but to be the face of their new anti-aging skincare line dedicated to women in their thirties.

Courtesy of Dior
Bella Hadid echoed Terry Richardson's infamous men's perfume ad for Tom Ford in her Alexander Wang fall/winter 2017 campaign solo shot.

Courtesy of Alexander Wang
For his fall/winter 2017 campaign, Alexander Wang seemed to try to make up for the fact that his show that season really didn't have an after-party by tapping Juergen Teller to photograph Lexi Boling, Bella Hadid, Binx Walton, Catherine McNeil, Anna Ewers and Hanne Gaby Odiele parading his new slogan while topless.

Courtesy of Alexander Wang
In case you couldn't tell, Bella Hadid and Riccardo Tisci are very close: A couple of weeks after Tisci posted an eyeful of an Instagram with the pair about to lock lips, the designer tapped Hadid to sit on his lap in only a sports bra and sneakers for his latest NikeLab collaboration, an image Hadid happily shared this February.

Courtesy of @bellahadid
The images may have been pixelated, but Eckhaus Latta's website still crashed when the brand first unveiled its spring/summer 2017 campaign this March, which not only pictured clothes from that season's collection, but also actual people, some found on Craigslist, having sex in them, as photographed in their bedrooms by Heji Shin.

Courtesy of Eckhaus Latta
It may have been their most out-there foray yet, but as usual, the brand known for its diverse casting of models stuck with its signature variety in the campaign, from the models Shin captured to their choice in sexual acts.

Courtesy of Eckhaus Latta
From his naughty early aughts days at Gucci to the present, Tom Ford has proved this century's top provocateur when it comes to fashion advertising, demonstrated most recently in his fall/winter 2017 campaign photographed by Mario Sorrenti, here picturing Binx Walton and a male model who's rather impossible to identify.

Courtesy of Tom Ford
Here, in another shot from Tom Ford's fall/winter 2017 campaign photographed by Mario Sorrenti, it is possible to identify the male model Jegor Venned—even though his face is, well, a bit obscured.

Courtesy of Tom Ford
Really, though, there's no need for the male models: Binx Walton reigns supreme all on her own in Tom Ford's fall/winter 2017 campaign photographed by Mario Sorrenti.

Courtesy of Tom Ford
Here lies Mariacarla Boscono, bedridden with a bit of Spring 2018 Proenza Schouler for a campaign shot by Tyrone Lebon.

Courtesy of Proenza Schouler
Only earrings were required for Freja Beha Erichsen's shot in the Saint Laurent spring/summer 2017 campaign, photographed by Collier Schorr.

Courtesy of Saint Laurent
Just two seasons in to his tenure at Saint Laurent, Anthony Vaccarello found himself fielding not just criticism for his fall/winter 2017 shot by Inez and Vinoodh, but also requests from France's advertising watchdog, Autorité de Régulation Professionnelle de la Publicité, to either stop using, withdraw, or explain this image in particular for its suggestion of "sexual submission" and trivialization of "sexist stereotypes."
To advertise its now 24-year-old fragrance, Obsession, this summer, Calvin Klein reprinted the ads that made it so famous: Those starring a waifish Kate Moss, who was at the time 18 and the literal obsession of the photographer and her then boyfriend Mario Sorrenti. Moss has since said that she had a nervous breakdown at 17 from the pressures of modeling, and said that Sorrenti was "abusing" her by bossing her around so much when photographing her constantly (and often nude) at the time.

Courtesy of Calvin Klein