Loewe's New Fruit-Focused Campaign Is Ripe for Instagram Titillation
Spring 2018 is all about mangosteens and loquats and consumption.
---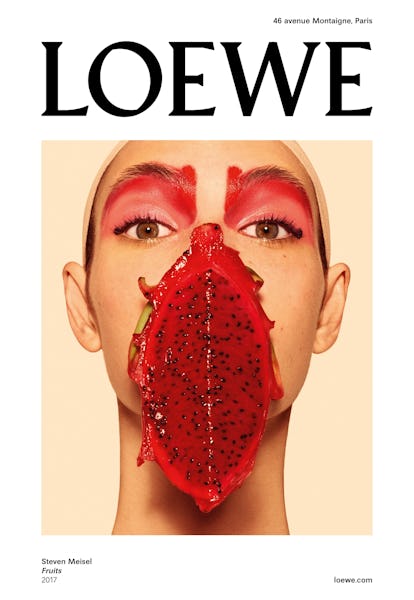 Steven Meisel
Jonathan Anderson, it seems, has his finger on the pulse of Instagram trends, if the latest campaign for Loewe, the Spanish leather goods brand for which Anderson has been creative director since September 2013, is any indicator. The Spring 2018 images, in which model Vittoria Ceretti poses with various tropical fruits superimposed over her mouth, were composed by a dream team consisting of photographer Steven Meisel, makeup artist Pat McGrath, and hair stylist Guido Palau. The result is five portraits that are, if not indebted to, then certainly perfectly aligned with the fruit-focused artists working on Instagram, as well as a wider spectrum of artists whose work has incorporated bananas, melons, and lemons—as well as jalapenos, eggs, papayas; you get the idea—for centuries.
In each of the five photographs, Ceretti's makeup coordinates perfectly with the vivid interiors of each of the fruits in her mouth, dripping with juice: There's a mangosteen, paired with a dark cranberry-colored brow; a canary melon, its white interior matching her whited-out forehead; a pomegranate with sun-pink temples and frosted eyelashes; a loquat paired with deep yellow lids and spots of burnt orange; and dragonfruit, matched with a painted-on lid of fuchsia and red.
The fruits, saturated with color and their own juices, bring to mind artists like Maisie Cousins and Stephanie Sarley, both of whom have accumulated large online followings for their fruit-centric meditations on gender and sexuality. But the Loewe campaign is "neither symbolic nor literal," according to a release accompanying the images—instead, less specifically, they're "striking compositions that point evocatively to notions ranging from taste, nature and biology to disguise, artifice and desire."
Anderson himself discussed the implications of his new images as well as his ongoing collaboration with Meisel—and the more specific significance of his new campaign—in a recent interview with British Vogue. Meisel has photographed campaigns for Loewe since Anderson's debut in Spring 2015, and, after all, it was an archival Meisel image in Vogue Italia that Anderson presented to Delphine Arnault as part of his Loewe pitch in 2013.
"Everything at the moment is propaganda," Anderson told British Vogue. "We consume what we are told to consume. Sometimes you have to reflect what is happening," he continued, "and Vittoria, well, I think she really kind of consumes you. You feel like you could eat her."
The campaign is "a modern interpretation of the long-standing subject of depicting fruit in art," continued the press release accompanying the photos. After all, Urs Fischer's paintings have superimposed bananas, lemons, and even eggs and cigarettes over the faces of the likes of Lauren Bacall and Elizabeth Taylor, obscuring their entire faces where Ceretti's green eyes are still visible in Meisel's portraits. (Fischer is no stranger to Instagram, too.) Elad Lassry's prints have also included watermelons and papayas. And 16th century artist Arcimboldo composed entire likenesses out of fruits.
That's to say, this is by no means a new theme in art, for all fruit has been a successful formula on Instagram recently—and for all Loewe's themes of consumption might be particularly fitting for an Instagram age.
Jonathan Anderson Leads Loewe Into a Dark Scavenger Hunt for Fall 2017
The presentation of Loewe's Fall/Winter 2017 Collection, during Paris Fashion Week. Photo by Landon Nordeman.

Landon Nordeman
The presentation of Loewe's Fall/Winter 2017 Collection, during Paris Fashion Week. Photo by Landon Nordeman.

Landon Nordeman
The presentation of Loewe's Fall/Winter 2017 Collection, during Paris Fashion Week. Photo by Landon Nordeman.

Landon Nordeman
The presentation of Loewe's Fall/Winter 2017 Collection, during Paris Fashion Week. Photo by Landon Nordeman.

Landon Nordeman
The presentation of Loewe's Fall/Winter 2017 Collection, during Paris Fashion Week. Photo by Landon Nordeman.

Landon Nordeman
The presentation of Loewe's Fall/Winter 2017 Collection, during Paris Fashion Week. Photo by Landon Nordeman.

Landon Nordeman
The presentation of Loewe's Fall/Winter 2017 Collection, during Paris Fashion Week. Photo by Landon Nordeman.

Landon Nordeman
The presentation of Loewe's Fall/Winter 2017 Collection, during Paris Fashion Week. Photo by Landon Nordeman.

Landon Nordeman
The presentation of Loewe's Fall/Winter 2017 Collection, during Paris Fashion Week. Photo by Landon Nordeman.

Landon Nordeman
The presentation of Loewe's Fall/Winter 2017 Collection, during Paris Fashion Week. Photo by Landon Nordeman.

Landon Nordeman
The presentation of Loewe's Fall/Winter 2017 Collection, during Paris Fashion Week. Photo by Landon Nordeman.

Landon Nordeman
The presentation of Loewe's Fall/Winter 2017 Collection, during Paris Fashion Week. Photo by Landon Nordeman.

Landon Nordeman
The presentation of Loewe's Fall/Winter 2017 Collection, during Paris Fashion Week. Photo by Landon Nordeman.

Landon Nordeman
The presentation of Loewe's Fall/Winter 2017 Collection, during Paris Fashion Week. Photo by Landon Nordeman.

Landon Nordeman
Watch: Marc Jacobs's First Kiss Was With a Girl, But It Was Just for Show
Marc Jacobs's First Kiss Was With a Girl, But It Was Just for Show