Kenneth Jay Lane, the Costume Jewelry Designer Beloved by Jackie Kennedy, Elizabeth Taylor, and Audrey Hepburn, Dies at Age 85
Lane made costume jewelry an It item among actors, socialites, and the fashion crowd.
---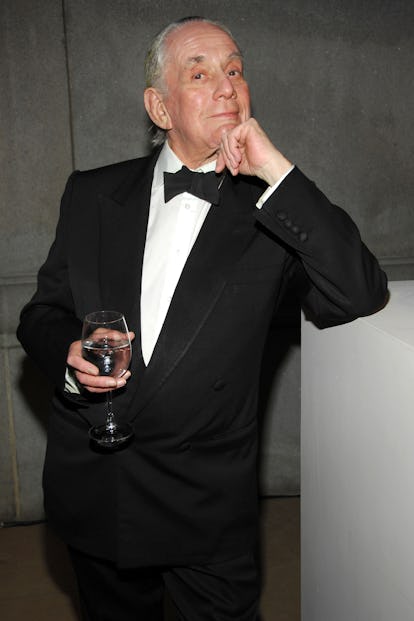 Patrick McMullan
Kenneth Jay Lane, the costume jewelry designer who made fake jewels the most covetable accessory among actors, socialites, and the fashion crowd, died this week in his New York apartment, his publicist confirmed in the Hollywood Reporter. He was 85.
Lane cut his teeth at Christian Dior, where worked under Roger Vivier designing the label's footwear and started experimenting with jewels. From there, he struck out on his own, garnering the approval of actors like Elizabeth Taylor (known for her exquisite, expensive taste) and Audrey Hepburn, who wore a five-strand pearl necklace designed by Lane in Breakfast at Tiffany's. Former first ladies Jackie Kennedy, Barbara Bush, and Nancy Reagan, as well as Princess Diana, were also fans; during an auction of the late Jackie O's belongings by Sotheby's in 1996, a faux pearl necklace with a crystal clasp by Lane went for $211,500—evidencing not only Kennedy's lingering cultural capital, but also that of Lane. "She was not that interested in valuable jewelry," Lane said of Kennedy in 1996. "She left the good stuff at the bank."
But for Lane's fans, his faux jewels were just as precious as any princess-cut diamonds or perfectly sculpted pearls. In fact, Taylor, an avowed fan of Lane, was also the proud owner of the most expensive pearl in the world, part of a Cartier necklace that sold for $11.8 million in 2001. In the documentary Fabulously Fake: The Real Life of Kenneth Jay Lane, designer Carolina Herrera recounts a friend's reaction upon learning her home had been burglarized: "Oh, gosh! I hope they didn't take any of my Kenny Lanes!" Fans of his designs referred to them, diminutively, as "Kennies," according to the Hollywood Reporter.
The documentary, written and directed by the filmmaker Gisele Roman, is slated to make the festival rounds this fall, with a wide release anticipated for early next year. It also features interviews with the likes of Diane von Furstenberg, Carolina Herrera, and Tory Burch.
Lane also documented his own life in his cheekily titled memoir, "Faking It," which debuted in 1996, the same year as the Jackie Kennedy auction. In his personal life, Lane, who also befriended the likes of Andy Warhol, had a reputation as something of a dandy; "Kenneth Jay Lane has described himself as part pugilist, part genius, part magician and part snake charmer," begins a 2016 story on the designer in T magazine. And at the time of his death this week at 85, Lane was still going strong, not only lending his support to the documentary but also, as he told the Hollywood Reporter last year, focusing on his e-commerce site, where he sells reproductions of many of his most iconic pieces—like the Jackie Kennedy pearls—as well as original, vintage-inspired designs.
Eddie Redmayne as Audrey Hepburn in "Breakfast at Tiffany's" is Incredible