Khloe Kardashian Just Revealed She is Having A Baby Girl
On the season finale of Keeping Up With the Kardashians, Kardashian shared that she and Tristan Thompson are expecting a girl.
---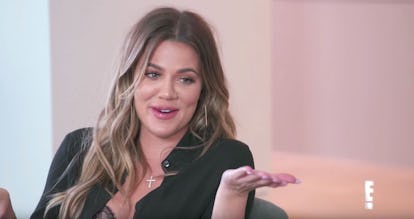 While all of Hollywood, and basically everyone who has ever seen a movie, was busy watching the 2018 Academy Awards on Sunday evening, the Kardashians were busy dropping another important bit of information. Ladies and gentlemen, Khloe Kardashian is expecting a baby girl.
Kardashian made the reveal during the season finale of Keeping Up With the Kardashians, as well as showing footage of the moment when she herself learned the news. The episode featured a scene between Khloe and sister Kim during a sisters' trip to San Francisco, during which Khloe received a phone call from sister Kylie Jenner, who was also pregnant at the time and had received the news of Khloe's baby's sex from her big sister's doctor. "You're lying," exclaimed Khloe in disbelief upon hearing the news. ""I don't feel like I'm having a girl." Luckily, Kim was there to comfort her. ""It's OK, I cried when I found out North was going to be a girl too," she shared. (Hope North wasn't watching…)
Apparently, Khloe was quite convinced she was having a little boy with partner Tristan Thompson. "When you have your mind made up as to what you're having, like everyone told me you're going to feel what you're having and you'll just kind of know. And then when you find out it's the complete opposite it's just a shock," she said. "I just was convinced that I was having a boy, so to be having a girl it's just like, 'OK that wasn't what I thought was going on.'"
Of course, by now, Khloe has gotten used to the fact and seems to be over the moon about her soon-to-be born daughter, who is due later this month. "I am now so excited my daughter will have forever best friends with Chicago and Stormi!! God is great!!! Thank you Lord for our princess," she tweeted
Here's hoping for plenty of baby playdates come next season.
Related: Kylie Jenner Gives A New Glimpse of Daughter Stormi on Snapchat, Even Though She's Not Happy With the App