Khloé Kardashian Clapped Back at a Troll Who Said She Was Making Daughter True 'Materialistic'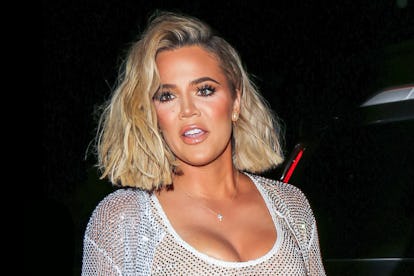 gotpap/Bauer-Griffin/Getty Images
There are certain privileges that come with being an infant in the Kardashian clan. For instance, instead of getting a regular toy car as a gift, you get a Bentley toy car. That was at least the case for Khloé Kardashian's daughter, True, who received a toy version of the luxury vehicle as a gift from Kimora Lee Simmons.
Based on an Instagram posted by Kardashian, True looks absolutely thrilled with her brand new car. "I'm not sure what's cuter, the cute teddy bear driving the Bentley truck or True's cheeks and smile," she captioned the Instagram. "Thank you Auntie Kimora and family for the precious gift!" But not everybody is sharing in her joy. Apparently, some fans are not okay with the concept of young children enjoying extravagant toys and are accusing Kardashian of teaching True to be materialistic. "She should receive a cross or a Bible so this child grows closer to God as opposed to embedding materialism in her brain," one fan wrote on Instagram.
Naturally, it didn't take long for the reality star to clap back with a comment of her own. "She's a baby who received a beautiful sweet gift and I was SOOO excited to put her in it and take a picture!" Kardashian wrote. "I'm enjoying every single moment I can with my sweet angel! The angel GOD gave me!"
Another commenter went even further, suggesting that Kardashian should be donating her daughter's clothes to charity. In response, Kardashian wrote that she donates to "multiple shelters and charities all over California." Indeed, she has discussed her charitable efforts in the past, sort of. "I hate when people throw their charity work in everyone's faces because they are doing it for publicity or praise," Kardashian said last year. "I give to give. I don't give to get."
If there's a lesson to be learned from all this, it's this: Never come for Khloé Kardashian on Instagram.