Khloé Kardashian and Tristan Thompson's Daughter Makes Her Social Media Debut on Instagram
They teach them young in the Kardashian family.
---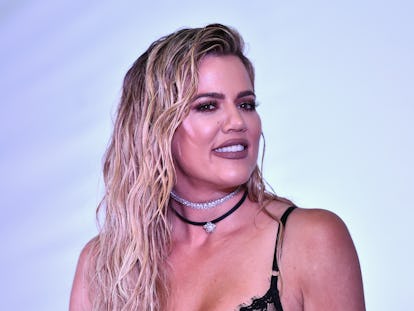 Alberto E. Rodriguez/Getty Images
It's been a month since Khloé Kardashian gave birth to True, her daughter with basketball player Tristan Thompson, and to celebrate the occasion, Kardashian has given True her social media debut. (She is a Kardashian, after all, and they have to learn the ways of Instagram and Snapchat young.) In a short video posted to Kardashian's Instagram Saturday morning, she can be heard in the background, cooing, "Happy one month old, mama. I love you, pretty girl," while her daughter blinks, wide-eyed, in the frame. She slapped a filter on the clip, too—a frangipani blossom with a smattering of freckles across True's nose and cheeks, gold butterflies hovering around her head.
The post is also something of a public debut for the month-old infant, given that when mother and daughter went for a walk in Cleveland earlier this month, True spent most of the time swaddled in a white blanket, obscuring the view of curious onlookers and prying paparazzi. The whole family has stayed relatively under the radar—by Kardashian standards, in any case—in the wake of True's birth and the all-too-public revelations about Thompson's alleged infidelity both in the week leading up to his daughter's birth and last fall. (Kardashian, for instance, has only posted three Instagrams, including this one, since giving birth to her daughter; one of those posts was on the occasion of her sister Kourtney's birthday. Tristan has only posted twice, both times shots on the court.)
Two days earlier, in the middle of last week, Thompson gave his first interview about True since his cheating scandal broke last month: "This is the first girl Thompson, female Thompson, so it's huge," he said. (Not so huge that he felt compelled to be super attentive to his family, though—sister Kim, voicing what we were all thinking, recently described the situation as "so f***ed up.")
In any case, united by a shared obsession with their newborn daughter, Thompson and Kardashian also look to be making amends: They were recently spotted getting dinner together in Cleveland, and Kardashian attended a Cleveland Cavaliers game shortly after. "Right now, Khloé truly has no other cares in the world. She isn't even mad at Tristan right now," an "insider" (is that you, Kris?) told People magazine. "She's basically already forgiven him." We'll believe it when we see it on Instagram.
Related: Kylie Jenner Explains Why She Named Her Daughter Stormi
20 Gifts for Every Kind of Mom in Your Life