Tristan Thompson Opens Up About Baby True in New Interview
It's the first time he's talking about his daughter publicly.
---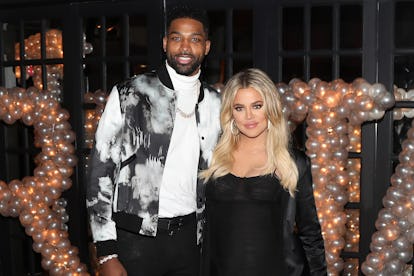 Jerritt Clark/Getty Images
Khloé Kardashian has yet to upload any pictures or footage of True Thompson, but Tristan Thompson is here to share some details about the baby ahead of her social media debut. "She's doing good," he said on Tuesday during his appearance on UNINTERRUPTED's Road Trippin' podcast with Richard Jefferson and Allie Clifton, per People. "Baby True is eating, sleeping and, uh, shtting," he said. "That's all they do." Adding that "this is the first girl Thompson, female Thompson, so it's huge," the Cleveland Cavaliers player also revealed in the interview that his daughter "has a full head of hair," "green eyes," and is 21 inches long, according to People.*
This is the first interview Thompson has given about his baby since news of his alleged cheating scandal broke, the week of her birth. Both he and Kardashian have yet to break their silence on the infidelity rumors (though sister Kim K has), which involved him allegedly cheating on her with a woman the weekend before True's birth and making out with three women last fall, and he stayed away from the topic during his podcast appearance.
He did, however, express his interest in having more kids. "I'm going to keep going," he said on the podcast, per People. "I've got a couple more left in me." Thompson also gave some insight into the difference between raising the son he shares with ex Jordan Craig, 17-month-old Prince Thompson, and a baby daughter. "I think with a girl, you're just so much more emotionally like… with a boy, it's just like, 'Hey man, you'll be all right man. Stop crying,'" he said in the interview, according to People. "But [with True], it's like, 'True, it's gonna be okay. You know, we're right here. Daddy's here to feed you. It's me! Look, yeah!' It's way different, but it's fun, though. It changes you."
Previously, baby True was spotted out in public with her mother, who took her on a walk in a stroller covered by a white blanket. The paparazzi have yet to snap any pictures of her with her father, who has nevertheless been having several dinner dates with Kardashian, sparking rumors that the two are still together.
Related: Here Are the Real Heroes of the Kardashian Jenner Family Empire