Khloe Kardashian and Tristan Thompson's Relationship Is a Work in Progress—And Not Over Yet
There are a lot of rumors.
---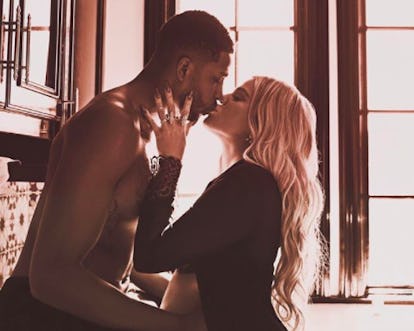 Courtesy of @khloekardashian
The only people who actually know what's happening with Khloé Kardashian and Tristan Thompson's relationship are those inside of it, but that hasn't stopped others from speculating on their status. The most recent update confirms what anyone following either of the celebrities on social media can glean themselves: it's a work in progress. The pair have not broken up in the wake of Thompson's cheating scandal. (Footage surfaced of him with other women in the months leading up to the birth of his first child with Kardashian, True. No, it wasn't orchestrated by the Kardashians.) But they're not carrying on with their lives as though nothing happened either.
For one, Kardashian is moving back to her native California, leaving Cleveland behind. She's been living in the city where Thompson plays for the Cavaliers and where True was born, after Kardashian's sisters Kim and Kourtney as well as the matriarch Kris came to be with her. "Khloé has been focused on bonding with her baby, but also really misses her family," a source tells E! News. "She is very understanding that everyone has their own lives and is super busy, but she is starting to get lonely and wants to get back to her home in L.A. Khloé already has everything for True set up in L.A.; it's just a matter of when she is going to make the move that she is still deciding on."
Her family, including matriarch Kris and sisters Kim and Kourtney — who all flew to Cleveland to be present for True's birth — couldn't be happier about the move, either. Jenner is apparently "counting the days until she gets back.""The whole family is in a group text," says the source, "and they are so excited every time Khloé shares a photo of True."
While Kardashian is moving away from Thompson, she hasn't exactly given up on their relationship, mostly for the sake of their daughter. "Khloé thinks it's great they have been having a bit of space right now, but she is worried about their future," says the source. "She hasn't figured it out yet." While she's trying to, everyone around her is allegedly giving their own unsolicited opinions. "Everyone close to her thinks she needs to split from Tristan and has told her she can do this on her own," the source says, adding that, still, they know "it's her life" and "Khloé needs to do what's right for their baby."
It's watching Thompson parent True that's also keeping Kardashian invested in their relationship. "She has one foot out the door but is also holding on to the fact that her and Tristan can make it work," the source says. "She hasn't given up on him yet, but also hasn't really been focusing on their relationship. When they see each other, it is all about the baby and parenting together. Khloé has fallen in love with him all over again, watching him be a dad to True, but [she also] knows she needs to really take a step back and make the right decision."
Everyone else might need to take a step back as well, as the rumors about their relationship keep flying—most notably, that Thompson cheated on Khloé with at least five different women and cheated on her the night before her baby shower, according to ET. Honestly, though, there's no point in speculating on the details. Kardashians aren't private; they're strategic. No doubt, when the next season of Keeping Up with the Kardashians arrives, the curtain will be lifted.