Khloé Kardashian Hires a Nanny, Goes on Dinner Date With Tristan Thompson
But this nanny is not just any regular caretaker.
---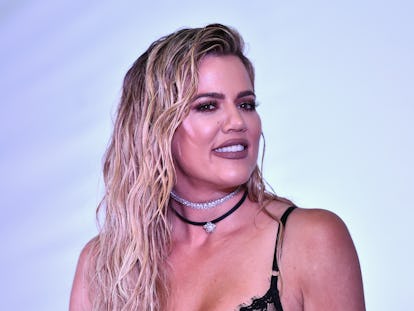 Alberto E. Rodriguez/Getty Images
Khloé Kardashian is following in the footsteps of her sisters Kim, Kourtney, and even Kylie Jenner, by hiring a nanny.
But this nanny is not a regular nanny—she's Kardashian's very own emotional "support" system, according to everyone's favorite "take it with several grains of salt English" tabloid The Daily Mail. This new caretaker is also serving as "company" for the first-time mother in her time of need. A source also told People that "Khloé seems to like having someone with experience help her, but she still spends most hours of the day with her daughter." Considering the latest in Kardashian-Thompson drama, hiring a nanny who can also provide emotional support might not be such a bad idea. Or maybe she just saw Tully.
When one Kardashian makes an executive business decision, the rest of the sisters typically follow, and hiring someone to assist with True Thompson is really not that big of a deal. How else would the mogul manage filming all of her family's drama on Keeping Up With the Kardashians, run Revenge Body, and manage a denim brand? Almost any new mother with a schedule as packed as a Kardashian's would need assistance with a newborn.
Kardashian recently opened up about seeing the first paparazzi photos of her in a postpartum state on her app, noting that she finally has permission from her doctor to "tone up" her body after giving birth. After she was recently spotted out to dinner with Tristan Thompson in Cleveland—for the first time since news of the alleged cheating scandal broke—Kardashian made her first public debut with baby True, who was covered by a blanket.
Neither Thompson nor Kardashian has publicly commented on the news of his alleged cheating while she was pregnant, but Kim Kardashian recently appeared on The Ellen DeGeneres Show to state her opinion that the entire situation is "so f–ked up." As of right now, many speculate that the two are still on as a couple. After the dinner spotting, Kardashian showed up at Thompson's basketball game on Saturday night, cheering on the Cleveland Cavaliers against the Raptors, the team from his hometown of Toronto.
Related: Khloé Kardashian and True Thompson Spotted Out for the First Time