Khloé Kardashian and True Thompson Spotted Out for the First Time
She gave birth to her daughter on April 12.
---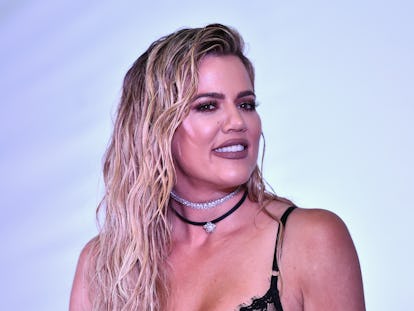 Alberto E. Rodriguez/Getty Images
True Thompson just made her first public appearance…kind of. On Sunday, Khloé Kardashian was spotted out and about in Cleveland, Ohio, with stroller in tow. Those hoping to catch a glimpse of the newest Kardashian member will have to wait just a bit longer, though—according to the photos (which can be seen on the Daily Mail's website) the 3-week-old spent the whole time under a white blanket.
This is the first time the reality-TV star has been seen in public with her baby since she gave birth, on April 12. Tristan Thompson, who is currently reportedly embroiled in a cheating scandal, was not present, but he was very much in attendance at Kardashian's two other public appearances this weekend. On Friday, TMZ spotted the new parents dining together at a restaurant in Cleveland, with video footage showing the pair "relaxed and smiling." The next day, Kardashian appeared at Thompson's basketball game, making what TMZ took to be a public display of support as well as almost-evidence of the two being together.
Neither Kardashian nor Thompson have publicly commented on the reported cheating scandal since news broke, the week of True's birth, of Thompson having allegedly cheated on Kardashian with one to three women as recently as the weekend before.
Meanwhile, other members of the Kardashian-Jenner clan have been more than happy to opine. Late April, Kim Kardashian West took a break from defending husband Kanye West to vocalize to Ellen DeGeneres and a studio audience what the rest of us could not: "I don't even know how to describe it besides that it's just so f*cked up," she said on The Ellen DeGeneres Show, adding that she's going to "keep it classy" since "there's a baby involved." And last week, Kris Jenner went on Ellen to say that the cheating allegations were "unexpected," while also declaring the Kardashian-Jenners are a "force to be reckoned with" and kind of, not-so-blithely admitting that everything she says about her family is a pack of lies.
Related: Here Are the Real Heroes of the Kardashian-Jenner Family