Kris Jenner Dishes on a Whole Bunch of Recent Kardashian Drama, Then Freely Admits Most of What She Says Is Lies
Ellen DeGeneres called her out on-air for spreading fake news.
---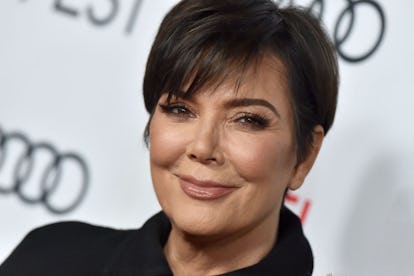 Axelle/Bauer-Griffin/Getty Images
Since turning their backs on People, the Kardashian-Jenners have been looking for a new outlet. And if the past, extremely drama-packed week is any indication, anyway, it seems like the first family of reality TV has settled on having coy, on-screen conversations with Ellen DeGeneres.
The partnership really started when the host landed one of the most in-demand interviews around, getting Kim Kardashian to not only appear on air in the midst of a maelstrom of family drama, but also to comment on it all—and not mince words while doing so. (Her brief response to Tristan Thompson allegedly cheating on her sister Khloé, for example: "It's so f—ed up.") More importantly, though, DeGeneres then got matriarch Kris Jenner to appear on her show, to talk about a wide range of family secrets, from her own take on Khloé and Tristan, to her views on Kanye West's recent, um, manner of existence.
While it has been rumored that Kris actually orchestrated the cheating scandal, in what would be a truly devious latest installment of her notably genius marketing schemes, the momager made it seem like she was unfamiliar with the rumors while on The Ellen DeGeneres Show this week, starting off by saying the cheating allegations were "unexpected."
After lauding Khloé for being "just the best mom already," she complied with DeGeneres' pressing her to add more about Thompson, saying that the family's response was as usual: to "spring into action with love," hence them "all hopp[ing] on a plane and [flying to Cleveland because that's what we know to do. ("There's a lot of us and we all get together and we do things together and we're a force to be reckoned with," she continued, rather unnecessarily.) That's all very sweet, except that DeGeneres then caught her in something of a bind in getting Kris to admit that the family had already planned to fly out to Ohio to be there with Khloé while she delivered True Thompson—to the point that Kris actually arrived with her daughter's doctor when she was in labor.
Here, DeGeneres paused to do what anyone who's even remotely been keeping up with the Kardashians has likely felt at least the tiniest urge to do for years: She addressed the elephant in the room, which was that given Kris' reputation, she'd probably just lied about most of what she'd said. (Though if Kris was indeed telling the truth a minute or so earlier when she said that she does her best to "support [her] kids no matter what happens," one can't exactly blame her.) Kris summed up the whole saga by pointing out that she now has nine grandchildren, and which point without pause, DeGeneres neatly segued into remarking, "you're so good at lying about them, too," starting with the irrefutable evidence that the last time Kris was on the show, she danced around confirming or even discussing neither Khloé nor Kylie's rumored pregnancies, both of which she knew were of course more than rumors.
"Do you ever confuse your lies, like to me? Because you've lied to me all the time," DeGeneres asked, to the audience's (and Kris' actually seemingly uncomfortable) laughter. She also asked if Kris manages to "keep track of what is on the show and what's not on the show," to which Kris responded, "I pretty much lead a very confusing life. I'm confused at all times," agreeing with DeGeneres that that is her "natural state."
"It's a natural thing. So I kind of just mumble along and, hopefully, you'll believe it," she continued. Degeneres quickly responded, "But I never do. I never do. I know you're lying about everything, so whatever I ask you, I just automatically think you're lying to me." To that, Kris said, "I know … it's like opposite day"—right before the clip conveniently cuts off.
For what it's worth, earlier on the show, Kris also responded to DeGeneres' question of whether or not Kanye was okay by saying "he always does things with really good intentions," and adding that she can't keep up with her family herself. (To the point that she "wake[s] up and need[s] a vodka.") Of course, it's now up to you whether to actually believe all that.
Related: Kanye West and Kris Jenner, Newfound PR Power Couple, Team Up to Tear the Latest Kardashian Gossip Down
A Celebration of Kylie Jenner's 20 Years of Not Letting the Critics Get Her Down