Khloé Kardashian Gracefully Relived Her "Super Emotional" Relationship Drama with Tristan Thompson on National Television (and Twitter)
The reality star admitted that Thompson was "lucky I was nine-months pregnant" when she discovered his infidelity.
---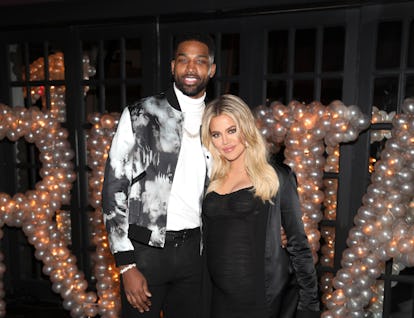 Getty Images/Jerritt Clark
Sunday's episode of Keeping Up With the Kardashians proved to be one of the most emotional yet, at least for Khloé Kardashian.
The episode, which revealed the moment in which the entire Kardashian family discovered that Khloé's boyfriend, [Tristan Thompson],(https://www.wmagazine.com/topic/tristan-thompson) had been reportedly cheating on her while she was pregnant, aired roughly seven months after the drama unfolded. On Twitter, Kardashian opened up about reliving the news from earlier this year and gracefully addressed how she plans to move on from the cheating scandal. "Tonight's episode is an uncomfortable and super emotional one for me, but when we signed up for this show over a decade ago, we signed up for a reality show, which meant showing you guys inside our lives, the good, the bad and the ugly," she wrote, before acknowledging the lag in time between when episodes of Keeping Up With the Kardashians are filmed and when they finally air.
During the episode, Kardashian engaged with viewers on Twitter, insisting that Thompson "probably should" watch the episode with her after one fan asked if he had seen it, and also admitting that she thinks he is "lucky I was nine-months pregnant" when she initially learned about his infidelity. She effectively hit Thompson with a "thank u, next" of sorts on social media, though the two are technically still together.
A major plot point in the episode chronicled the reality star's time in labor and birth of her daughter, True Thompson. Kardashian defended her decision to show positive videos and photos of Thompson in the episode so that she could have "a beautiful birthing experience" and so that True could "have videos and pictures of her daddy there, holding her."
She, of course, received some online support from her sister Kim Kardashian West, who shared on Twitter, "I saw what Khloé wrote and I will let her really speak on it. We have always been open and honest so tonight was just as real as it gets."
If her tweets are any indication of how Khloé is handling her whirlwind year, it would appear as if she is definitely taking everything in stride, with her main focus being raising her daughter, True.
Related: Khloé Kardashian Gathers All the Baby Cousins for True's Half-Birthday