Khloé Kardashian Chooses Kim as Daughter True's Legal Guardian in New KUWTK Clip
Look! The Kardashians are getting along again!
---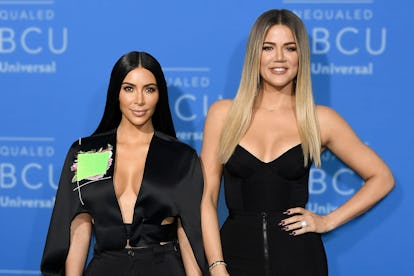 Composite. Dia Dipasupil/Getty Images
Kim, Kourtney, and Khloé Kardashian have had their fair share of sibling drama lately (and introduced us to the wonderful world of "sisters therapy"), but a recent conversation about whom Khloé would name as daughter True Thompson's legal guardian actually has them getting along—even though it technically involved Khloé playing favorites.
In a promo for an upcoming episode of Keeping Up With the Kardashians, Khloé reveals which sister would be in charge of raising True if anything were to happen to her and Tristan Thompson.
"So I can't make anything official until the baby is born… but I am going to probably have Kim as the legal guardian if, God forbid, something happens," she tells Kim and Kourtney in the clip, per E!. "I don't know my parenting style until I have a baby, but from what I envision my parenting style to be, I do think it'll be more like Kim. A little more stricter."
Though this revelation was shared before five-month-old True was even born, Khloé admits that she finds Kim's parenting style more relatable than Kourtney's. And though she thinks she'd technically name Kim to the role, she knows her entire family would be there to care for True if the situation ever arose.
"If anything, god forbid, were to happen, I know my daughter's in the best of hands, no matter who her legal guardian is," Khloé says.
While Kourtney isn't exactly thrilled with Khloé's choice, she seems to understand. "Guess what? You don't have to give me an explanation, I got three kids and I'm busy on my own," she says, referring to her three children with Scott Disick: 8-year-old Mason, 6-year-old Penelope, and 3-year-old Reign. In the same clip, she also reveals that she's thinking about upping her own brood by "one plus."
Later, in confessional, she reveals she thinks Khloé still might change her mind. "Honestly, you don't know what your parenting style is until you have kids," she says. "I think once Khloé has her own daughter, and she is really a mom, then maybe she will realize that we have more in common than she thinks, as far as parenting styles. You never know, Khloé might switch back to me."
For her part, Kim seems to be thrilled with the news. "It is my honor," she tells Khloé. "And I will take such good care of your kids."