Kim Kardashian's Fridge Gets Called Out in Water Bottle Waste War
"30% of the world's plastic consumption is in the Kardashian refrigerators."
---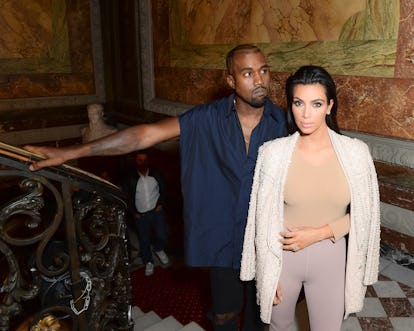 BFA
Any religious viewer
of Keeping Up With the Kardashians should be as well-acquainted with their refrigerators as their drama. Kim Kardashian, Kris Jenner, Kourtney Kardashian and Khloé Kardashian's collection of clear Sub-Zeros often serves as the backdrop for their conversations when the cameras are rolling. Because of that, it's all too easy to recite the contents—not just for me, but for Cazzie David as well.
The 86ed mastermind whipped up that knowledge against Kim Kardashian after the reality TV star made an environmentally conscious post on Instagram. "Plastic Emergency," Kardashian wrote as a caption to a video of plastic in the ocean. "Our next generation has to live with this! Let's care enough to fix it!" David later took a screenshot of the post and shared it to her own Instagram stories before sharing a screenshot of a DM she sent in response to Kardashian.
"Have your family stop using plastic water bottles!," she wrote with a heart emoji, adding a joke that "30% of the worlds plastic consumption is in the Kardashian refrigerators."
No doubt, water is one of the most prevalent items in the Kardashians' fridges on the TV show and on their own social media accounts, from Khloé's stand-alone water fridge in her fitness closet to Kourtney's pantry, which has a section just for different kinds of water. "It's an understatement to say I keep lots of water in the house," Kourtney wrote in her lifestyle app, when sharing photos of her hyperorganized pantry. "I take everything out of the bulk packaging and recycle those materials before they go into the pantry. This way all the bottles look tidy on the shelves, as opposed to stacks of boxes or bundles wrapped in plastic." Even Rob—who rarely makes cameos these days on Keeping Up With the Kardashians—has a water-centric fridge, which he revealed after sharing photos of his empty kitchen after Blac Chyna left him and took all of their food with her.
Even though David called out the Kardashians' plastic usage, she's defended them before. Two years ago she wrote a guide to Instagram for Vanity Fair, citing Kim's Instagram as a golden example. "People so often forget that their Instagram is more than just their latest post. Before posting, step back and look at the bigger picture, aka your 'flow,'" David wrote. "Kim Kardashian West uses the same filter for all of her photos in order to maintain her light, golden-brown Insta flow. You can't live your life on a post-to-post basis—it will make your flow sloppy, and you simply can't have that." Good thing Kardashian posted her plastic PSA to her Instagram stories and not her feed.
Related: Kim Kardashian Continues To Be the Ultimate Cher Fangirl At the Singer's Las Vegas Concert