Kim Kardashian Just Posted a Picture of Chicago West's Face
Alert! We have our first clear look at the baby!
---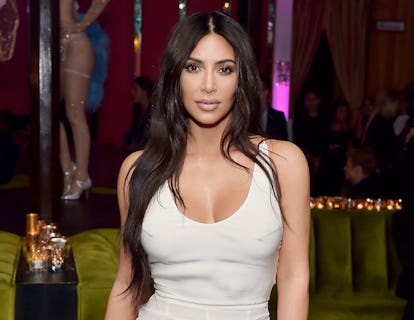 Photo by Stefanie Keenan/Getty Images for Lorraine Schwartz
We finally have our first (clear) look at the littlest member of the Kardashian-West family! And just like her siblings Saint and North, Chicago West is absolutely adorable. Her mother Kim Kardashian West posted a picture of the baby girl, wearing a snap-up pink onesie, on Saturday morning. She captioned the Instagram, "Morning cutie ?."
Cutie is right! Look at that face:
Since being posted mere hours ago, Chicago's face has already racked up nearly three million likes and attracted over 25 thousand comments on Instagram. Previously, our only glimpses of the baby were the grainy footage in Kylie's pregnancy/birth reveal video and this Instagram posted by Kim, in which both mother and daughter's faces are obscured by a Snapchat filter:
Kim has been traveling recently in Japan, but thoughts of her family are never far behind, as she managed to find a "Chicago" sign while abroad.
Chicago, Illinois, is where Kanye West grew up. Apparently, the baby will go by the nickname Chi, pronounced like shy.
Chicago West was born two months ago on January 15. As Kim explained in a message on her app, the couple used a gestational carrier, not a surrogate, noting the distinction: a surrogate carries an embryo made using her own egg, while a gestational carrier carries an embryo using someone else's egg. Chicago is biologically half-Kim, half-Kanye.
Earlier this month, Kim revealed that while she'd be open to having, at maximum, one more child, her "home and my heart feel really full right now, in the best way." She also expressed her belief that "it's important that in all couples, the mom gives the husband as much attention as the kids." So does this mean we can get a full-family picture sometimes soon? Are the Kardashian-Wests ever all together in the same place?
Related: Kim Kardashian West and Kanye West Reveal the Name of Their New Baby