Kim Kardashian On Surrogate Rumors: "Kanye and I Have Not Confirmed Anything"
"There have been a lot of things said."
---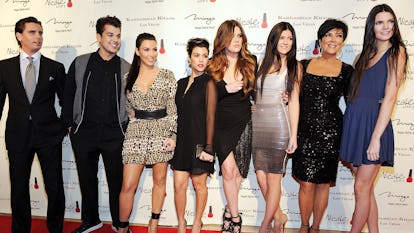 Denise Truscello/WireImage/Getty Images
After a decade of Keeping Up With the Kardashians, it may feel like the world is already to privy to everything there is to know about America's most famous family. But as it turns out, there are a few things the camera doesn't get to see.
In honor of the show's 10th anniversary, all six of the Kardashian women sat down with The Hollywood Reporter to spill on some of the things that their viewers haven't been privy to in past seasons—or even on social media. Kim, specifically, took the opportunity to address the speculation surrounding the expansion of her own family.
It was first reported back in June that she and husband Kanye West are expecting their third child via surrogate, but according to Kim, nothing has been formally announced. "There have been a lot of things said, and Kanye and I have not confirmed anything. We're definitely trying. We are hoping so," the mom and mogul told THR. So that's not exactly a denial of the pregnancy-via-surrogate rumors, but not a definite yes either.
Kim also spoke to the controversy surrounding younger sister Kendall Jenner's Pepsi ad. "We're not perfect, but you see these things in the media, like Kendall and [her Pepsi ad, which was accused of trivializing Black Lives Matter], where I see her at home crying, but in the media she looks another way because she's not addressing it," said Kim. "I'm just like, 'This is wrong. You need to speak up.' She was like, 'I don't ever want to show that footage of me crying.' She was trying to not make excuses or be dramatic, but that was what she was going through at the time."
Kendall isn't the only sister who's tried to hide her tears from the ever-present cameras. "I remember in Season One being like, 'I have to go to the bathroom,' and I'd cry in there as quietly as I could because I was still mic'd. I never want to cry in front of cameras," older sister Kourtney said in the same interview.
After 10 years and 13 (soon to be 14) seasons on the air, Keeping Up With the Kardashians is officially the longest-running reality TV show in history. "When we first started, I jokingly said, 'We'll be on Season 32, Kylie gets married,'" Kris Jenner told The Hollywood Reporter. "I was kidding, and here we are, and it's Season 14, so be careful what you wish for."
No, Kris — Kylie's wedding will be on Season 6 of Life With Kylie. Duh.