Kim Kardashian Attended Her 20-Year High School Reunion This Weekend, Instead of Going to Coachella
Kardashian reflects on her high school years: "I was so nice to everyone."
---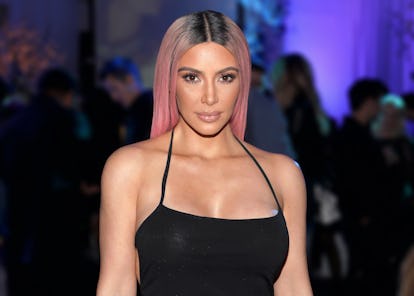 Getty Images
Unlike her sisters Kourtney Kardashian and Kylie Jenner, Kim Kardashian is not at Coachella this weekend. (At least, not yet.) And she's not in Cleveland, either, despite the fact that her sister Khloé just gave birth and is in the middle of a rather dramatic scandal. Instead, Kim Kardashian is in California for a far more pressing engagement: her 20-year high school reunion, an event she broadcast in detail on Snapchat and Instagram on Friday.
The saga opened inside a party bus, where mylar balloons spelled out "Class of 98" and "MHS" over a leather banquette. "Of course, I had to get a party bus for the class of '98," Kardashian explained, "and all my yearbooks waiting." She cut to a spread of several yearbooks from her high school years—Kardashian, now 37, graduated from the all-girls Catholic school Marymount High School in 1998.
"Hey guys," she addressed her audience. "So, I am on my way, in a party bus, to my 20-year Marymount High School reunion, with my friends who I haven't seen in 20 years." Those friends, she reported, were concerned they might see fellow students at the reunion "that they were mean to," but Kardashian had no such qualms: "I feel so good about my conscience," she said in the Snapchat video. "I was so nice to everyone." (Her friends, in the background, laughed.)
At one moment, Kardashian admitted she was "so nervous"; at another, she wondered if she should wear her name tag, probably considering it more of an accessory than anything, because it's doubtful her peers wouldn't recognize her. (Even though she probably doesn't look much like her yearbook photos anymore.) She ended up opting into the name tag thing—apparently, it paired well with her white shirtdress and transparent Yeezy heels.
"This is so crazy," Kardashian repeated as she and her friends entered the school. "This is so crazy. So insane." The halls might look the same, and even some of the teachers might be the same, but "the desks are totally different," she observed. An important detail.
Anyway, it's a well-documented fact that Kardashian loves a good #tbt—and a high school reunion might just be the ultimate real-life throwback.
Related: Lauren Greenfield Photographed 25 Years of Rich People in America, Starting With 12-Year-Old Kim Kardashian
Kim Kardashian's Most Memorable Looks
Pulling an Angelina in Altuzarra in Beverly Hills.
Photo by Getty Images.
Keeping it simple in a sleek black suit.
Photo by Getty Images.
Matching baby North in head-to-toe tan.
Photo by Getty Images.
Rocking Givenchy maternity at the 2014 Met Gala.
Coordinating in one of many long coats in New York.
Photo by Getty Images.
And a textured one, too.
Photo by Getty Images.
In a sheer Proenza Schouler dress at the 2015 CFDA Awards.
Photo by Sherly Rabbani.
Looking chic in head-to-toe black at a Paris gym.
Photo by Getty Images.
Right on trend in a barely-there Roberto Cavalli dress at the 2015 Met Ball.
Photo by Sherly Rabbani and Josephine Solimene.