Kim Kardashian Meme "Gym Kardashian" Is Exactly Who We Need on Valentine's Day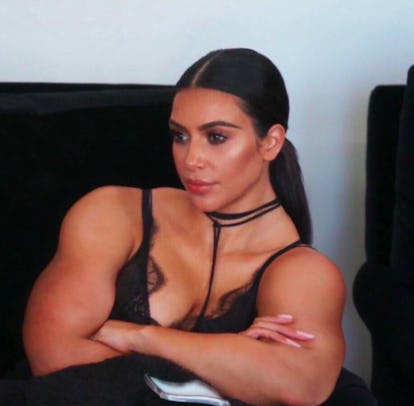 twitter.com/jaypaulgeorge
Staying strong on Valentine's Day just became a whole lot easier thanks to a new Kim Kardashian meme. Meet "Gym Kardashian," a buff version of the reality TV star who is here to remind you of the joys of being a driven, independent person. Have to lug around your own groceries without any help? That's actually a bragging right. Popped an impossible-to-open bottle? Go on and flex about it. Bicep-curled your weight in Barneys New York shopping bags? Well, that isn't a "Gym Kardashian" meme yet, but it's just a matter of time, really.
The meme first popped up on Twitter user Jay Paul George's account when he posted a beefed-up still of the mom of three from Keeping Up With the Kardashians with photoshopped arms. "About to hit the gym," the post reads. George then proceeded to share another few muscular renditions of Kardashian, all stills from her reality show.
It wasn't long until the meme was picked up by viral Twitter account @girlposts, which shared the images with the caption "me trying to stay strong on Valentine's Day," causing a chain reaction of different interpretations.
There is something undeniably alluring about bodybuilder Kim Kardashian. For one, she's strong and in control. There's also the fact that muscles on women is so rarely celebrated, to the point where women who proudly flaunt them are too often targets of trolls. Tennis star Serena Williams recently addressed this double standard for women on Instagram, when musing over her newborn daughter Alexis Olympia. "I was looking at my daughter (OMG, yes, I have a daughter ?) and she has my arms and legs!," she wrote in September, which was part of a larger letter to her mom, as The Washington Post noted. "My exact same strong, muscular, powerful, sensational arms and body. I don't know how I would react if she has to go through what I've gone through since I was a 15 year old and even to this day…. I've been called man because I appeared outwardly strong. It has been said that I use drugs (No, I have always had far too much integrity to behave dishonestly in order to gain an advantage). It has been said I don't belong in Women's sports — that I belong in Men's — because I look stronger than many other women do. (No, I just work hard and I was born with this badass body and proud of it)."