Kim Kardashian and Kanye West Reportedly Could Not Care Less About Taylor Swift's Alleged Diss Track
They would like to be excluded from this narrative.
---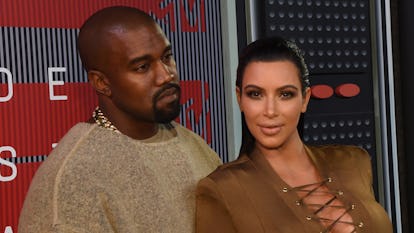 Larry Busacca/Getty Images
Las week, in the clap-back track heard round the world, Taylor Swift (allegedly) exacted her year-in-the-making lyrical revenge on Kim Kardashian and Kanye West with her new single, "Look What You Made Me Do." But in true Kim and Kanye fashion, they reacted by, well, not caring at all.
Remember the time Amy Schumer did a slip-and-fall in front of them on the red carpet, and they completely ignored the entire thing? It's basically that, but even icier.
According to TMZ, West is more focused on his feud with Jay-Z than his beef with Swift. Meanwhile, in Kardashian's mind, "the whole feud ended over a year ago," says TMZ, likely when she released the recordings that disproved Swift's claims that she never approved the lyrics for West's "Famous" song—and the Internet pretty much took her side.
Kardashian celebrated the release of "Look What You Made Me Do" by tweeting a completely unrelated photo of her son the morning the song came out. Then, she blocked the snake emoji from her social media feed to avoid being spammed by Swift fans who were attempting to give Kardashian a taste of her own medicine. Still, it's pretty clear that the Kardashian-Wests want nothing to do with the eight-year-long drama.
While Swift hasn't officially confirmed that the song is about the Calabasas royals, the internet is all but convinced. Everything from the album typography, which looks eerily similar to West's Life of Pablo fonts, to the lyrics of the song that seemingly reference the "tilted stage" West used during his last tour ("I don't like your little games / I don't like your tilted stage / The role you made me play of the fool / No, I don't like you.") to the video, which makes note of the "receipts" Kardashian used to put the infamous Swift call on blast.
Even so, West and Kardashian's names may be underlined in red on a Taylor Swift hit-list filled with pop stars and ex-boyfriends, but it seems like they have long moved on to other targets.
Related: Right Said Fred Approves of Taylor Swift's Use of Their '90s Classic 'I'm Too Sexy' in Her Single 'Look What You Made Me Do'
Kanye West Just Wants to Bring Joy to the World Like Will Ferrell in 'Elf':
Taylor Swift Actually Never Wears Sneakers
Taylor Swift. Photo by Getty Images.
Taylor Swift. Photo by Getty Images.
Taylor Swift in Los Angeles this year. Photo by Getty Images.
Taylor Swift on her 2013 RED Tour in Los Angeles.
Taylor Swift on her 2013 RED Tour in Massachusetts. Photo by Getty Images.