Right Said Fred Approves of Taylor Swift's Use of Their '90s Classic 'I'm Too Sexy' in Her Single 'Look What You Made Me Do'
"To be honest with you we're really happy with it."
---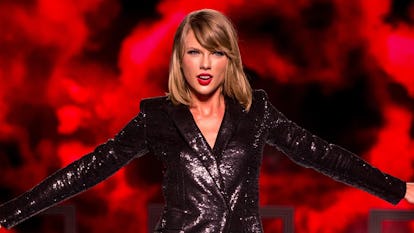 Christopher Polk/Getty Images
Just hours after Taylor Swift released "Look What You Made Me Do," her first single in three years, fans have already picked it apart and found some interesting hidden tidbits. But perhaps the biggest hidden nugget is the '90s song sampled in the chorus.
YouTuber Chase Holfelder posted a video with the song "I'm Too Sexy" by Right Said Fred (you know the one) and "Look What You Made Me Do" playing at the same time, and they totally match up. But, like pretty much everything Swift does, it's not that obvious. You have to really listen to the beat in the chorus to hear it.
Some stans looked into it and found, according to Genius, that the three members of Right Said Fred—Richard Fairbrass, Fred Fairbrass, and Rob Manzoli—have a writing credit on the track alongside Taylor Swift and acclaimed musician/songwriter/producer Jack Antonoff. The song "I'm Too Sexy" also has a sampling credit. So there you have it.
Because we know Swift is all about the details, the lead-up to the release of "Look What You Made Me Do," the first single off her forthcoming album, Reputation, has been filled with subtle hidden meanings. First she scrubbed her social media of all photos, then she posted mysterious [https://www.wmagazine.com/story/taylor-swift-snake-video-clip) all over said accounts, followed by the release of her new cover art, which foreshadowed a new, darker style that we have not seen before from Swift.
And it seems Right Said Fred is totally loving this '90s throwback. The band reposted the new song on Twitter and said, "Thank you @taylorswift13 ❤️ what a marvelous reinvention! #imtoosexy #lookwhatyoumademedo."
Fred Fairbrass opened up to Billboard hours after the song dropped about how it came to be. "Her team reached out to our publisher about a week ago and to be honest with you we're really happy with it," Fairbrass said..
Fairbrass also praised the song for being written "from a very cynical point of view." "It was making fun of the hedonism of the '80s with the whole supermodel scene and the self-love of that time," he added. "Interestingly, she's channeled a lot of that original cynicism, which I think is quite cool. Because of the way we delivered the song… we took our shirts off and acted like idiots, so we sold the song in a very different way. But I think she's done a very interesting thing. But I like the track, I like the darkness of it."
Related: Taylor Swift Channels Arya Stark and Also Santa Claus on Her New Single, "Look What You Made Me Do"
Watch: Edward Enninful Reflects On Kate Moss, Kurt Cobain, And the Best Of '90s Fashion