Kim Kardashian Keeps Wearing Naomi Campbell's Old Looks and the Internet Has Noticed
But there's no bad blood.
---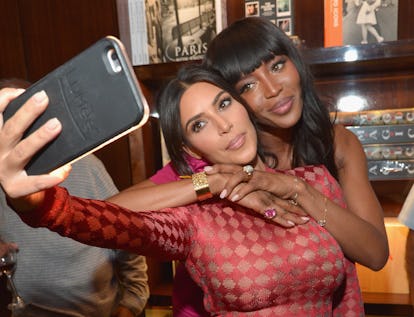 Charley Gallay
Kim Kardashian has been on something of a tear recently wearing some of the greatest runway hits of '90s fashion, but it seems like her mood board may skew toward one specific inspiration than just the decade in general. In recent days, the Internet has noticed that many of those recent vintage looks Kardashian has been turning up in were originally worn on the runway or red carpet by none other than Naomi Campbell.
Now, to give Kardashian a little benefit of the doubt, Campbell was at the top her runway game in the '90s (a peak, mind you, that she really hasn't fallen far from since), and her show-stopping walk demanded that the top designers who booked her give her a show-stopping look to match. Anyone with the means and interest in amassing a wardrobe full of '90s designer clothing would almost have to go out of their way not to wear something that Campbell once wore during the decade.
Still, at this point, Kardashian's penchant for Campbell-inspired looks seems not to be a coincidence, and the Internet is quickly noticing.
The 1998 Versace gown Kim Kardashian wore in December to the opening of The Cher Show on Broadway? Not only had Campbell worn the dress herself to the Fragrance Awards back in 2015, but actually premiered it on the runway all those years ago.
The Azzedine Alaïa leopard-print jumpsuit Kardashian was seen out and about in while visiting Paris last week? Campbell wore that one originally on the runway as well (not surprisingly, as she was so close to the designer that she considered him a father figure).
And the examples go on, and on, and on. Indeed, Kardashian was spotted attending Chance the Rapper's wedding this weekend in a vintage Versus Versace dress that Campbell not only wore on the runway but that her wax figure wore when it made its debut.
The wardrobe overlaps have also been noted by fashion watchdog @Diet_Prada.
Most of the dresses in question either seem to be by Alaïa or Versace. Campbell was uniquely close with each designer, but Kardashian, too, has maintained a relationship with both houses (she met with Alaïa several times before his death, and wore custom Versace at the most recent Met Gala). Those designers not only offered up sex appeal in spades in their designs but also designed with women with curves in mind. We should also note that while Kardashian recently had a run of wearing several Thierry Mugler outfits from the era, none were originally worn by Campbell, even though she was a regular on his runway as well.
The pair have been spotted grabbing lunch together and posing together at parties before, and there's reason to believe that the fashion homages of late haven't lead to any bad blood. They still follow each other on Instagram, and eagle-eyed fans have noticed that Campbell liked a comment downplaying any drama.
Looking Back at Azzedine Alaïa's Greatest Hits in the Pages of W
Naomi loves some Alaïa. Here, the super wears a chantilly lace dress on the cover of the June 2007 issue, and talks about her required community service at the sanitation department — wearing a look that is just a bit less glamorous then wearing Alaïa.
Naomi Campbell in "The Naomi Diaries," photographed by Steven Klein, styled by Treena Lombardo; W magazine June 2007.
Mr. Azzedine Alaïa himself graced the pages of W, in the September 2012 issue, shot by Jean-Baptist Mondino, who was one of the friends who attended the designer's Fall 2016 show last week.
Azzedine Alaïa in "A Cut Above," photographed by Jean-Baptiste Mondino; W magazine September 2012 (originally 1995).
"Art and Commerce," photographed by Inez Van Lamsweerde and Vinoodh Matadin, styled by Alex White; W magazine October 2009.
Mr. Alaïa is revered for body-hugging dresses, but who needs the dress, when you have this vintage body, shot by Craig McDean for a 2008 issue.
"Emotion," photographed by Craig McDean, styled by Alex White, W magazine October 2008.
Ryan McGinley's romantic and blurred image captures the essence of this Alaïa mongolian coat, for the June 2007 issue.
Kate Moss in "Dream Girl," photographed by Ryan McGinley, styled by Camilla Nickerson; W magazine June 2007.
Oprah! Creative Fashion Director Edward Enninful commissioned a custom bodysuit, skirt, and belt from Alaïa for this style moment, captured by Juergen Teller for the February 2014 issue of W.
Oprah in "All About Oprah," photographed by Juergen Teller, styled by Edward Enninful; W magazine February 2014.
Male model Zhengyang Zhang wears an Azzedine Alaia belt from the Albright Fashion Librar.
Photographs by Steven Meisel, Styled by Edward Enninful
Fashion editor and stylist Carine Roitfeld wore Azzedine Alaïa Haute Couture's crocodile print patent-leather jacket and skirt with her one jewelry, hat, and Sergio Rossi shoes for a W shoot in 2011.
Photographer: Paolo Roversi
Photographs by Alasdair McLellan; Styled by Katie Grand
The designer's close friend Naomi Campbell wears an Azzedine Alaïa jacket and skirt for a 2013 spread shot in Ghana.
Photographer: Willy Vanderperre Stylist: Edward Enninful
Supermodel Joan Smalls wears an Azzedine Alaïa black leather jacket and skirt in a 2013 editorial

Photographer: Steven Klein Stylist: Edward Enninful

Supermodel Joan Smalls wears an Azzedine Alaïa jacket and skirt in a 2013 editorial Photographer: Steven Klein Stylist: Edward Enninful
Tilda Swinton wears an Azzedine Alaïa top, skirt, and shoes with an Emilio Cavallini bodysuit and Alexander McQueen headpiece.

Photographer: Tim Walker Styled: Jacob K

Photographer: Tim Walker Styled: Jacob K
Noami Campbell wears an Azzedine Alaïa dress with Gaspar Gloves gloves, Falke socks and Balenciaga shoes from a 2016 editorial
Photograph by Steven Klein, Styled by Edward Enninful