Kim Kardashian Addresses Kanye West Get Out Memes
"People are so f–king dumb."
---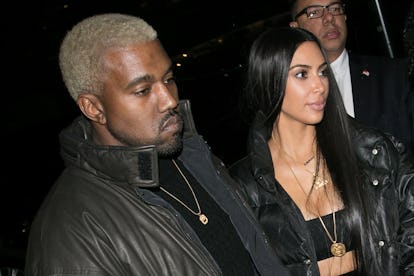 Marc Piasecki/GC Images
There's no doubt that Kanye West has made some personal changes ever since he first got together with Kim Kardashian. But a recent meme that references Get Out suggests that it wasn't of his own accord — and the reality TV star is speaking out against it.
In the wake of tweets like "Kanye West is officially in a sunken place" piling up, Kardashian has slammed comparisons to Jordan Peele's Oscar-winning film, telling Elle, "Another dumb Kanye f–king Get Out reference … It's like people are so f–king dumb and stupid." What Kardashian didn't say is that it's problematic to assume that her husband has no agency of his own. For those who've followed West's career, it's also almost unbelievable that West would allow himself to be roped into anything he didn't want to do.
One thing, however, which has changed Kanye is becoming a father. "The last thing I would want to happen to my daughter is some crazy drunk black guy in a leather shirt to come up and cut her off at an awards show," he told Kris Jenner on her short-lived talk show after the birth of North West, referencing his infamous 2009 VMAs interruption during Taylor Swift's acceptance speech. Kanye has also humbled since welcoming his three children, as he told Jenner, "For me as a dad, I'm supposed to be this musical genius and everything, but I can't work the car seat very well. So I think, OK, what if I'm not working the car seat and lets add on top of that 20 grown men screaming at me in front of my child…and then taking photos and then putting it on 20 media outlets. And 20 million Americans screaming at me saying, 'You don't know, you're supposed to be a genius working a car seat, and I'm in a cold sweat…but if you think you got enough things to deal with as a new parent and you add that layer on top of it, it becomes really intense. I love this person. She's worth it to me," he said of North.
If anything, West's influence on the Kardashians seems to be more measurable than vice versa, at least aesthetically. See: his fashion declaration emails.