Kim and Khloé Kardashian React to Tristan Thompson's Alleged Cheating Scandal in New KUWTK Teaser
"I hate him. Sorry, not sorry!"
---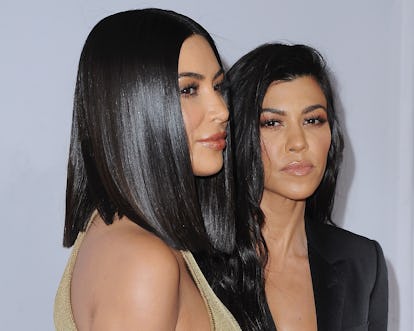 Composite. Jon Kopaloff/Getty Images
When claims of Tristan Thompson's alleged infidelity surfaced earlier this year—mere days before Khloé Kardashian gave birth to their daughter—the entire Kardashian-Jenner family went into lockdown, keeping their lips zipped on the topic until Khloé, apparently, gave them her blessing. That said, while they weren't speaking to their fans and followers on social media, the tight-knit family members were obviously still speaking to one another and, apparently, to the Keeping Up With the Kardashians camera crew. In a new mid-season trailer for upcoming episodes of KUWTK, Kim Kardashian West, Kris Jenner, and Khloé herself are briefly shown seemingly reacting to the news of Thompson's alleged practice of cheating on his girlfriend.
After teasing storylines involving Kim's White House–bound crusade for the pardon of Alice Marie Johnson, Kourtney's trip to Washington, D.C., to push for stricter cosmetics regulations, and, perhaps most importantly, Kris's reunion with her old mime pal Pierre, Scott Disick sets up the segue into more dramatic territory: "Nobody in this family can ever catch a break," he states in an ominous tone. Next up, we see Kim, likely filming a talking head interview for KUWTK, incredulously asking someone on the phone, "They have another video of him?!" Later, Kim proclaims, "Unfollowed. I hate him. Sorry, not sorry!"
Khloé, meanwhile, is at first only shown lying in bed, looking wordlessly distraught. In another clip, over footage of her getting an ultrasound scan, Khloé says, "The things I can control, I have to be able to control." Also distressed at her lack of control over the situation, it seems, is momager Kris, who laments to boyfriend Cory Gamble that her daughters' boyfriends "are always, like, going for sloppy seconds." Clearly, the rest of this KUWTK season is going to be a pretty bumpy ride for all involved.
In the months since those photos and videos allegedly showing Thompson being unfaithful to Khloé first cropped up, the family has mostly continued to maintain their silence. In a recent tweet, though, Khloé did finally acknowledge the situation, replying to a Twitter user who criticized her for staying with Thompson, "You have no knowledge of what goes on in our household or the enormous rebuilding this takes to even coexist. I'm proud of my strength. I appreciate your opinion and I hope you hold that same opinion to everyone else who has stayed in situations."